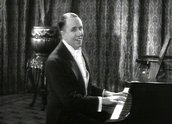 Jack O'Hagan: Vocalist Composer (1931)
Synopsis
In his only filmed performance, broadcaster, singer, composer and performing artist Jack O'Hagan recites five of his compositions, 'Carry On', 'By the Big Blue Billabong', 'In Dreamy Araby', 'After the Dawn' (1926) and – most famously – 'Along the Road to Gundagai' (1922).
Curator's notes
This performance was filmed for part of Frank Thring's series of variety shorts called Efftee Entertainers. O'Hagan appears a little wooden in his performance, at first standing awkwardly on stage with two backup pianists accompanying him. He is much more comfortable towards the end of his recital where he sings his last three numbers seated at the piano.
Australian tenor Peter Dawson's 1931 recording of O'Hagan's 'Along the Road to Gundagai' has been included in the foundation list of the National Film and Sound Archive's Sounds of Australia public registry of sound recordings. This registry celebrates the unique and diverse recorded sound culture and history of Australia and can be accessed through the NFSA website.