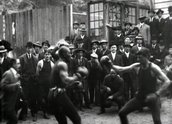 Jack Johnson Training Film (c.1909)
Synopsis
Historic footage of heavyweight champion boxer Jack Johnson at California training in front of a small crowd.
Curator's notes
The bout between Tommy Burns and Jack Johnson on Boxing Day 1908 drew the biggest spectator crowd in the history of sporting events in Australia to that date, attracting over 200,000 people to the newly built open-air Sydney Stadium at Rushcutters Bay (see Boxing 1908: Johnson vs Burns, 1908). This footage, likely shot in October 1909, shows a theatrical Johnson exercising, sparring and performing in front of the camera.
Visible in the footage is George Little, Johnson's manager from mid-March 1909 to early June 1910, during which time Johnson was mostly in the USA. The location of filming was between Ocean Beach Pavilion and Seal Rock House at Ocean Beach on the Pacific coast west of San Francisco, California, where Johnson set up his training quarters both prior to his fight with Stanley Ketchel (on 16 October 1909) and prior to his fight with James J Jeffries (on 4 July 1910).