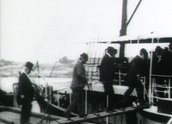 Government Party Boards SS Lucinda (1899)
Synopsis
This actuality footage was shot in 1899 by Frederick Charles Wills, the official photographer of the Queensland Department of Agriculture. It shows Queensland politicians boarding the paddle steamer Lucinda, moored at a wharf on the Brisbane River. The parliamentarians board the boat and motor away from the wharf, showing the lifeboat and leaving the wharfie to tidy the ropes.
Curator's notes
This footage is thought to be a record of an outing of politicians in connection with the Queensland Federation League on 14 October 1899. The wharf is on Brisbane River, behind the then Department of Agriculture building in William Street.
Wills, and his assistant Henry William Mobsby, were commissioned by the Queensland Department of Agriculture in October 1898 to capture aspects of Queensland agricultural and daily life using a Lumière Cinematographe camera. For further information, see 'Australia's First Films' by Chris Long and Pat Laughren, Cinema Papers, 1993, No. 96, p 37.