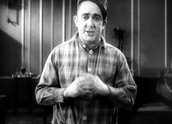 George Wallace: Australia's Premier Comedian (1931)
Synopsis
A comedy musical and dance routine by George Wallace, directed by Frank Thring as part of his Efftee Entertainers series of variety shorts.
Curator's notes
This Efftee short was actually a screen test made by George Wallace for Frank Thring in 1931. Thring was so impressed by Wallace's performance and star quality that he cast him in the features His Royal Highness (1932) and Harmony Row (1933). His Royal Highness (1932) contains a scene in which Wallace's fumbling, dancing stagehand Tommy Dodds attracts the attention of a man on stage who remarks, 'I might include you in one of my films' (see His Royal Highness, clip one).
Wallace was a seasoned comic performer on the vaudeville circuit and his act reflects these origins. Here, his 10-minute routine begins at the piano but then quickly moves on to a self-described 'Hungarian love ballad' which he calls 'My girl works in the bottle works and the boys say she's a corker'. This is followed by a similarly rambling introduction to what he calls a 'story dance'. This starts out as the 'Dance of the wounded wombat' but incomprehensibly morphs into 'Herbert's first love affair', which contains a step called 'The dance of the startled fowl'. This is typical Wallace – his often tangential stories may contain no logical through-line, but his comic gift lies in his timing, facial expressions and childlike character. His physical agility as an accomplished tap dancer is also notable (as are his beautifully executed tumbles).
Wallace's screen test was released for public exhibition without much alteration and almost certainly played in a program with Efftee's Sentimental Bloke in 1932 as part of Frank Thring's Efftee Entertainers. Efftee Entertainers was a series of variety shorts of filmed stage performances that included musical, dancing and comedy acts, impersonations and excerpts from JC Williamson's opera company.