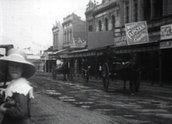 Footscray 1911 (c.1911)
Synopsis
This unedited actuality footage of Footscray in 1910 captures street scenes of daily life in the Melbourne suburb. The film is silent, without intertitles and filmed mostly with a static camera.
Curator's notes
This is one of the earliest moving image recordings of Footscray. According to the Footscray Advertiser newspaper, most of the footage was shot on 14 December 1910 by a Pathé Australian Animated Gazette film crew. The unedited footage was compiled with intertitles and screened a week later at the Federal Hall in Nicholson Street, Footscray, to a local audience (see A Thriving and Prosperous Suburb: Bird's Eye View of Footscray, c1911). The scene in clip one is also included in the finished film, but here it doesn't have the descriptive intertitle that identifies it as one of the 'principal streets' of the suburb.
In 1971, prominent Melbourne film lover and collector Harry Davidson shot actuality footage of Footscray for his friend Brian Davis, possibly for the 60th anniversary celebrations of the Grand Picture Palace (see Footscray 1971). It is unusual to have actuality footage of the same suburb so many years apart and, when both are viewed together, it is remarkable to see the development of the suburb over that time.