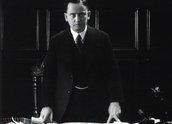 Efftee Studio Opening in Melbourne: Speech by Frank Forde (1931)
Synopsis
This short promotional film, made by Frank Thring Senior's production company Efftee Film Productions, records a speech made by Frank M Forde, then Minister for Trade and Customs, at the opening of Efftee Film Studios and the screening of the first 'all-Australian talkie program'.
Curator's notes
The coming of the 'talkies' to Australia in 1928 saw a dramatic shift in the production, exhibition and reception of moving pictures throughout the country. Forde's speech expresses optimism about the future of Australian film making in this context, with a potential positive impact on local jobs in production and the presentation of 'typical Australian characters' onscreen.
Frank Thring Sr's Efftee Film Studios were officially opened on 2 June 1931 when this speech was recorded. It was screened to audiences at the opening of the first Efftee program at the Plaza Theatre, Melbourne, in November that year. The program included the Frank Thring feature Diggers, which attracted strong box-office takings and went on to tour the country.
Frank Thring Sr is a pioneer of early Australian sound cinema. In 1930 he formed the country's first talking film studio Efftee Film Productions based on the Hollywood-style studio system. Along with Diggers, his best-known features include The Sentimental Bloke (1932), Harmony Row (1933) and His Royal Highness (1932).
Frank Forde served as Minister for Trade and Customs in the Scullin Government for under a year in 1931. He was briefly Prime Minister in 1945 after the death of John Curtin.