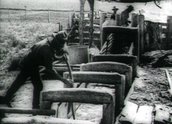 Dipping Sheep (1899)
Synopsis
A farmer pushes sheep underwater with a plunger as they pass through an arsenic sheep dip.
Curator's notes
The Queensland Department of Agriculture funded the world's first government film production project in October 1898. The official photographer for the project was Frederick Charles Wills who was assisted by Henry William Mobsby. Together they produced over 30 short films using a hand-cranked Lumière Cinematographe camera (see Cinema Papers, 1993, No. 96, p 35).
Wills and Mobsby were appointed to film agricultural processes, national events and aspects of daily life, to attract British farmers to settle in Australia. Other films showing Queensland farm life and labouring include Wheat Harvesting with Reaper and Binder and South Sea Islanders Cutting Cane (both 1899).