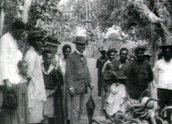 Darnley Islanders Pay Tribute (1899)
Synopsis
The film shows the people of Darnley Island greeting Queensland's Home Secretary, the Hon. Justin FG Foxton, and his wife Emily and giving them gifts of fruit from the island.
Curator's notes
In 1898 the Queensland Department of Agriculture commissioned Frederick Charles Wills and his assistant Henry William Mobsby to record on film agricultural work and important events to encourage British immigration. These trailblazers of Australian documentary filmmaking produced 30 short films over seven months between March and October 1899. These films hold local, national and international audiovisual heritage significance.
Henry William Mobsby accompanied the Queensland Home Secretary, the Hon. Justin FG Foxton, onboard the government motor vessel White Star on a tour of the Torres Strait in 1899. During this time, he recorded the visit by the Home Secretary and his wife to Darnley Island. Only one other film made by Mobsby during the tour of the Torres Strait Islands survived. It shows the Channel Rock Light Ship off the Townsville coast.
The footage shows Foxton and his wife standing in a gateway, surrounded by a group of Islander people, with lush foliage in the background. John Douglas, the Government Resident of Thursday Island and former Queensland Premier (from 1877-79), ushers a parade of Islander people past the camera, in the foreground, as they offer bananas and coconuts to the visiting dignitaries. Douglas takes off his hat and bows to the Home Secretary. The locals continue to offer fruit to their visitors and Foxton replies by tipping his hat and his wife nods with appreciation.
The Queensland Museum holds the Lumière Cinematographe Wills and Mobsby used to make their films. The first public screening of the Lumière films in Australia did not take place until the Queensland Museum exhibited them in 1993, nearly a century after they were made, as the Department of Agriculture did not release them locally. Surprisingly, this is not the earliest surviving footage of the Torres Strait Islands (see Torres Strait Islanders, 1898).