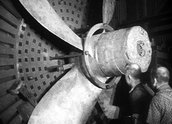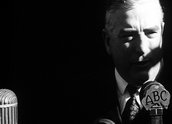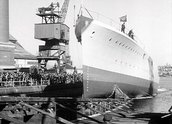 Cockatoo Island: Newsreel Film of Dockyard Activities (c.1939)
Synopsis
This film is a compilation of 11 segments showing activities at Cockatoo Island dockyard, in Sydney Harbour, during the years 1936 to 1942.
Curator's notes
Cockatoo Island, the largest island in Sydney Harbour, was purchased from NSW by the Commonwealth in 1913 for use as a dockyard for the newly formed Royal Australian Navy. In 1933 the dockyard was leased to Cockatoo Docks and Engineering Company Ltd, which continued the construction of warships and submarines for its major client, the Commonwealth.
During the Second World War, Cockatoo Island became the major shipbuilding and dockyard facility for the Pacific, following the fall of Singapore. Forty-nine ships were built, including minesweepers, corvettes, frigates, sloops, freighters, destroyers, tugs, boom net vessels and Liberty cargo ships. While ship construction was the main activity of the dockyard, other activities included refitting, conversion and repair of vessels, the production of boilers and turbines for ships, the production of equipment for mines and factories, and the design and construction of aircraft and speedboats with aeronautical engines.