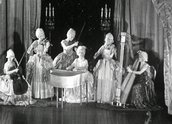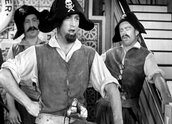 Cinesound Varieties (1934)
Synopsis
This surviving 18-minute fragment is from an hour-long variety show directed by Ken G Hall and photographed by Frank Hurley for Cinesound in 1934. It contains a segment with Hamilton Webber and the State Orchestra illustrating the evolution of the waltz and a curious adventure story-cum-travelogue with pirates in Sydney.
Curator's notes
Variety shorts were produced by both Cinesound and Frank Thring's Efftee Studios in the early 1930s when sound technology was incorporated into film production. In their content and style, many of these variety shorts retain links to vaudeville and live performance, as is evident in this Cinesound compilation. It originally ran for about an hour, but only a few segments survive. It was directed by Ken G Hall and filmed at the State Theatre, throughout Sydney and its surrounds. The film is shot by Frank Hurley and his characteristic picturesque style can be seen in clip two.
Frank Hurley joined Cinesound Productions in 1932 and photographed documentaries and a handful of feature films for the company. He also filmed some Cinesound Review newsreel items and this variety segment. Ken G Hall had a long association with Cinesound, directing some of its most successful features including On Our Selection (1932), The Squatters Daughter (1933), Strike Me Lucky (1934) and Smithy (1946).
Cinesound Varieties premiered in Sydney on 1 June 1934.