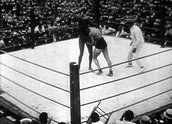 Boxing 1908: Johnson vs Burns (1908)
Hi: It might be interesting for people to know that Charmian London, Jack London's wife, was in attendence at this fight with her husband. She was the only woman. Here are her diary notes on the fight:

Dec. 26 Sleep little and feel rotten. But I go to the fight—Burns-Johnson. Great concourse of some 3000 outside. Inside only woman among 20,000 men. Crowd nice, however. Strange "Hoo! Hoo!" of crowd, as hissing. Poor Burns had no chance at all. But he gets the money just the same. Men stare but are not rude in general. It seemed like a funeral to have Burns beaten so terrible. Johnson merely played with him.

She and her husband met McIntosh and persuaded him to allow her to attend. They also saw Burns train and then Johnson train.

I'm interested in finding photos of the Londons at the fight or at the training sessions.

Thanks,
Jay Williams
Author under Sail: The Imagination of Jack London, 3 vols. (University of Nebraska Press, 2014, 2020)

#1 from squirreldundee – 3 years, 3 months ago.
To comment on this title, you need to be
logged in
.

RSS – Subscribe to an RSS feed of comments on this title. (learn about RSS)