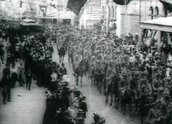 Boer War Transvaal Contingent (1899)
Synopsis
This piece of actuality footage shot by the official photographer of the Queensland Department of Agriculture, Frederick Charles Wills, and his assistant Henry William Mobsby in 1899 records part of the parade of the First Queensland Cavalry Contingent before they departed for the Boer War in South Africa.
Curator's notes
This actuality footage was filmed using a Lumiere Cinematographe, a camera which combined the functions of a moving image camera, printer and projector. The camera was hand-cranked and therefore not dependent on electricity, making it relatively portable.
It is one of only three films that capture the departure of the Queensland contingents for the Boer War; and, according to film historian Chris Long, the only one known to have survived.