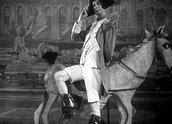 Athol Tier as Napoleon (c.1931)
Synopsis
This is a staged comedy and musical performance in which Athol Tier appears dressed as Napoleon.
Curator's notes
Comedian Athol Tier was involved in radio serials, performed on stage at the Tivoli Theatre in the 1930s and played Artie in FW Thring's 1932 talking remake of The Sentimental Bloke. This Napoleon routine begins with a short song followed by a meandering comic monologue set in a fictional English club that Napoleon attended before his defeat at Waterloo. The punchlines to the jokes often rely on audience familiarity with the characters and include references to Noah ('that famous sea captain') and his daughter Joan of Arc, King Solomon, Lord Nelson, William Tell and the Pharaoh's daughter. The tone and style is pretty much indicated by his opening joke about Napoleon meeting Josephine in a revolving door, which is how they started 'going round together'.
Tier's performance was one of many filmed by Frank Thring as part of his series of variety shorts entitled Efftee Entertainers. They featured musical and dancing acts, comedy routines, impersonations and excerpts from JC Williamson's opera company. The shorts were often filmed on a bare stage set against rudimentary backdrops, however props were also used on occasion (see George Wallace: Australia's Premier Comedian, 1931). The stage was inside His Majesty's Theatre in Melbourne, where Thring had set up his Efftee (named for his initials) film studios.