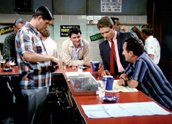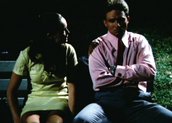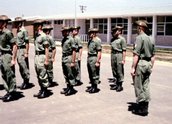 You Can't See 'Round Corners (1969)
Synopsis
Frankie McCoy (Ken Shorter) is young, stylish and tough, an illegal 'SP' bookmaker in the working class Sydney suburb of Newtown. Sent to train for the war in Vietnam, he goes AWOL and returns to his old haunts, but his girlfriend (Rowena Wallace) rejects him. Frustrated and in debt to some local criminals, he drifts into the arms of a more sexually liberated 'modern' girl (Carmen Duncan), with disastrous results.
Curator's notes
This film is actually a TV drama, refashioned to look like a feature film, although it never really does. Jon Cleary's well-known 1947 novel had been updated and shot as a 26-part serial for the Seven Network. The film version uses the same actors, sets and locations but the TV production values make the studio-shot scenes very obvious.
Still, it was made when there was virtually no local film production, and it's significant in that it depicts a working class milieu, at a time of social change. It contains one of the only depictions in Australian cinema of soldiers training for Vietnam, with scenes shot on location at Kapooka camp near Wagga Wagga. It's also significant for its frank discussion of sex, and its use of violence. Many of the cast would become household names in the film and television industry in the 1970s (Max Cullen, Max Phipps, Henri Szeps and Garry McDonald are all featured in support roles). The film opened in Perth and broke box office records. Returns in other states were more modest but the film was made for only $60,000.