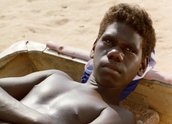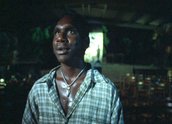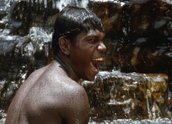 Yolngu Boy (2000)
Synopsis
Botj, Lorrpu and Milika are three Yolngu teenagers from northeast Arnhem Land, who are about to become men. Botj (Sean Mununggurr) is estranged from his parents and prone to glue sniffing. He's upset when his friends Lorrpu (John Sebastian Pilakui) and Milika (Nathan Daniels) are chosen for a men's ceremony, and he is not. He leads a break-in at the local shop that goes disastrously wrong. The three boys determine to run away to Darwin, 500 kilometres away, in a stolen canoe. On the journey, they rediscover hunting skills they learned as children and strengths they didn't know they had. They are becoming men, but their arrival in Darwin brings much bigger challenges.
Curator's notes
Yolngu Boy was a stunningly ambitious project – the first feature film of the Australian Children's Television Foundation, shot entirely in remote and difficult locations in Arnhem Land, with an entirely untrained Indigenous cast, and aiming to communicate with a wide youth audience. Even more significant, it aimed to be consultative and collaborative at every step – a joint effort between white filmmakers and black communities to tell a story those communities wanted told.
It's no wonder the process took six years and a great deal of goodwill on both sides. The director Stephen Johnson had grown up in Darwin, where his father taught at an Aboriginal high school. Johnson had connections with the Yolngu communities through his music clips for the band Yothu Yindi, but the process of getting appropriate permissions and agreement took several years. The scriptwriter Chris Anastassiades visited various communities over five years to gather material.
The resulting film is surprising on many counts. It's visually stunning, making great use of the landscape to give a sense of the role that land plays in the Yolngu culture, but very young and contemporary in style – with a driving soundtrack, fast editing and a sense of fun. The three young actors give natural performances, and the story does not overly romanticise the culture. Indeed, the film's greatest asset is the way it directly addresses the difficult realities facing its characters, especially in the final scenes in Darwin, where tragedy strikes with full force. The film is a remarkable achievement for all concerned.
Secondary curator's notes
by
Romaine Moreton
Yolngu Boy is the story of three boys as they journey into manhood, not all of them destined to make it. The issues addressed by Yolngu Boy are done tastefully, the Indigenous characterisations not sacrificed by Western guilt by way of over romanticisation or dehumanisation of the culture and main characters. Instead, Yolngu Boy does its best to examine the tensions between Western and Indigenous cultures, and the task of securing a rightful place in the world.
The displacement of the Indigenous male(s) is the theme that dominates this narrative, and the possibility of being an Indigenous male denied a place within both their traditional community as well as the wider (non-Indigenous) community is a predicament that is explored by the filmmakers. Audiences are urged to sympathise with Botj (Sean Mununggurr), the Indigenous youth who is struggling to find his place in the world, having been demoted to the status of boy until he proves himself worthy of becoming a man. The kinship bond between the three main characters ensures that though the characters may undertake a journey together, each destiny is unique in nature and outcome.