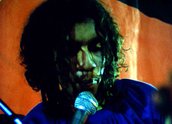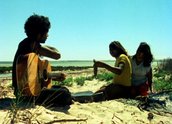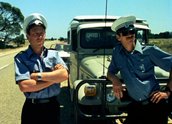 Wrong Side of the Road (1981)
Synopsis
This documentary-style drama follows the Indigenous bands Us Mob, Coloured Stone and No Fixed Address as they move from gig to gig.
Curator's notes
Wrong Side of the Road has been described as 'a road movie, a protest film, a political film, a rock film', evolving as a collaboration between the filmmakers, the community and the musicians featured in the film. Although this film has a strong documentary feel to it, it is a constructed drama, stylistically accomplishing what would otherwise have been an interview situation with talking heads. Wrong Side of the Road was an emergent work whose themes and content evolved from workshopping the central characters, resulting in a music-driven exposé through which personal stories were woven.
Director Ned Lander has been making films with Indigenous themes since the 1970s. Wrong Side of the Road won the AFI Jury Prize in 1981.
Secondary curator's notes
by
Paul Byrnes
Wrong Side of the Road came out of the Centre for Studies of Aboriginal Music at Adelaide University, where Graeme Isaac was helping young Aboriginal kids to form bands. Most black bands before this were playing country and western – these were among the first black bands in the country to play rock or reggae. Much of the dialogue in the scenes was improvised by the actors, based on their own experiences. Many of the players were very young – 16 or 17 years old. Several of them have since died, tragically prematurely.
Isaac, who acted as producer, has said that the film has had a long life. 'The by-line to the title was "48 hours on our side of town", and I suppose that was really what we wanted to do with the film, we wanted to take an audience, principally a white audience, onto the other side of the road for a while. And just to have them share in the day-to-day experiences of a group of young black Australians'.
The film was controversial, especially with the South Australian police, who had given their cooperation to filming and were unhappy with the result.