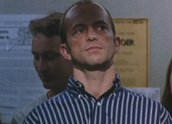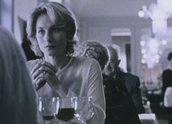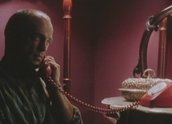 What I Have Written (1995)
Synopsis
As Christopher Houghton (Martin Jacobs) lies in a coma in hospital after a stroke, his wife Sorel Atherton (Angie Milliken) tries to make sense of their troubled marriage. Christopher's colleague Jeremy Flizsar (Jacek Koman) approaches Sorel with a request to publish a novella by Christopher. To her horror the work, about a couple called Avery (Martin Jacobs) and Gillian (Angie Milliken), appears to be a thinly-veiled account of her own marriage. It includes revelations of an encounter with a woman named Catherine (Gillian Jones) during the couple's trip to Paris – and an ongoing, erotically charged exchange of letters with her. Sorel sets out to discover what is fiction and what is truth.
Curator's notes
What I Have Written is a film entranced by words. Its drama springs not simply from key events – a trip to Paris, a stroke, revelations of an affair – but from how its players write and read about these events, imagine and re-imagine them. Their acts of writing and reading create a layered mystery, which revolves in part around the classic question of the unreliable – or perhaps reliable? – narrator. It's not surprising that What I Have Written was a novel before it was a film, adapted for the screen by its author John A Scott.
To bring screen dynamics to such a writerly tale, director John Hughes and his team call on every element of the form – making sure that the mystery resides in visual clues as well as in plot, narration and dialogue. Most strikingly, Dion Beebe's cinematography flows back and forth between three styles, creating a growing awareness that there are different perspectives at play. The plot also flows fluidly back and forth in time.
What I Have Written explores authorship and interpretation and the interface between life and art or, more broadly, as Hughes explains in a 1996 interview with Cinema Papers, 'the void between representation and experience'. These themes manifest not only in Sorel's search for the truth but in the preoccupations of Christopher/Avery and Christopher's colleague Jeremy. Christopher and – or? – his fictional counterpart Avery's preoccupation with pornographic images and imagined liaisons with other women intrudes upon his real relationship, his marriage. Jeremy, a university academic, delivers lectures on Renaissance paintings, using Freudian analysis to find psychosexual subtexts (see clip one).
Fittingly, What I Have Written also engages us in our own act of interpretation, demanding that we don't take everything we see at surface value. The drive to piece events together in time, distinguish between characters' perspectives and separate what is 'real' from what is written, carries us to the film's end.
The central importance of What I Have Written's distinct visual styles to its story meant that visual treatments were an integral part of the scripting process. Hughes worked with Scott throughout the writing stage. Beebe developed the styles through intensive testing, achieving them using traditional shooting and optical printing techniques, rather than digital special effects.
John Hughes has primarily worked in documentary. His films include One Way Street: Fragments for Walter Benjamin (1992), After Mabo (1997), The Archive Project (2006) and Indonesia Calling: Joris Ivens in Australia (2009).
What I Have Written was released in Australian cinemas in July 1996 and screened in competition at the Berlin and Stockholm film festivals in the same year. It was nominated for two AFI Awards in 1996: Best Adapted Screenplay (John Scott) and Cinematography (Dion Beebe).