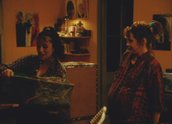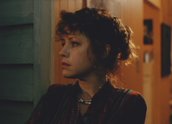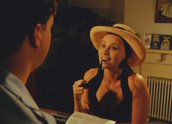 Waiting (1990)
Synopsis
Single, heavily pregnant Clare Fairweather (Noni Hazlehurst) is a successful artist living on a rural property. After experiencing her first contractions she contacts her three closest female friends to join her for the planned home birth, as arranged.
Arriving amid a torrential downpour with various men and children in tow are Therese (Fiona Press), a feminist filmmaker who plans to document the birth on camera; glamorous magazine editor Diane (Deborra-Lee Furness); and ex-kindergarten teacher Sandy (Helen Jones), for whom Clare is acting as surrogate mother before handing over the baby and heading to Paris for a year.
The women, men and children laugh, eat, drink, swim, argue and confess as they await the baby's arrival. But things do not turn out quite the way everyone is expecting.
Curator's notes
The second feature for Queensland-based writer-director Jackie McKimmie can be seen in retrospect as presaging the new energy that would flow through Australian cinema in the early 1990s. Although Waiting failed to gain the commercial or rapturous critical success of films that came in its wake such as Proof (1991), Strictly Ballroom (1992) and Romper Stomper (1992), it displayed a freshness of writing, briskness of direction and vivid interest in contemporary life that would mark out a new generation of Australian filmmakers.
The film adapts to a distinctively contemporary Australian setting a familiar story template: the ensemble piece in which friends gather in the countryside. Earlier examples include The Big Chill (1983) and Return of the Secaucus 7 (1979) in the US, while French cinema has a long tradition going back to Jean Renoir's La règle du Jeu (1939, The Rules of the Game) and Une Partie de Campagne (1936, A Day in the Country). In theatre this story tradition goes at least as far back as Chekhov.
Waiting is dominated by women immersed in female concerns, including motherhood, childbirth and (occasionally) body image, but it is not so much a feminist statement as a story that dramatises various dilemmas facing women in the post-1970s feminist era of independent womanhood. McKimmie deals with practices like home birthing and surrogate parenting with a light touch and approaches her characters with warmth and good humour while still recognising their flaws.
Filled with witty and snappily-delivered dialogue, the film is above all an entertainment. The action flows naturally and often very quickly, with McKimmie's script and smartly realised mise en scène (placement of the actors within the scene) capturing the complexity of the relationships in this often chaotic household.
Fiona Press won Best Supporting Actress at the 1991 AFI Awards and the film was also nominated for Best Director, Supporting Actress (Helen Jones), Editing (Michael Honey) and Costume Design (Murray Picknett). Deborra-Lee Furness, Noni Hazlehurst, Helen Jones and Fiona Press were collectively awarded the Silver Seashell for Best Female Performance at Spain's San Sebastian Film Festival. McKimmie received an honorary mention for the OCIC Award at the Venice Film Festival.
Waiting was released in Australian cinemas on 8 March 1991.