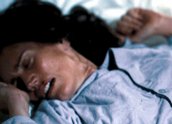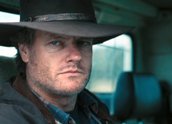 Unfinished Sky (2007)
Synopsis
Emotionally worn-out farmer John Woldring (William McInnes) is living a solitary existence in rural Queensland when a bruised, traumatised and initially speechless woman (Monic Hendrickx) stumbles onto his property. He bathes and clothes her and finds her a bed but the woman, named Tahmeena, doesn't speak English. Brief flashbacks show she is a victim of sexual assault, probably rape, which has made her mistrustful of men. John is driving her into town when he comes across the local pub landlord, Bob Potter (Bille Brown), who is driving out to see him. Tahmeena, recognising Potter, is extremely scared and hides before he has a chance to see her. Potter asks John if he has seen his runaway 'cleaner'. John plays along with Tahmeena and says no, realising how scared she is before driving her back to the farm.
In the following days he reluctantly becomes protective of Tahmeena, slowly helping her to learn English and discovering that she's from Afghanistan, where her family (from whom she became separated en route to Australia) was victimised by the Taliban. Meanwhile he reveals that his isolation and mistrust of others derives from the death of his wife in an accident and his belief that her father and all the locals think he killed her. Visiting Potter's pub in town he finds circumstantial evidence that Tahmeena may have been kept prisoner in an upstairs room. As the pair's relationship becomes closer their safety is endangered by an increasingly suspicious Potter and a corrupt local police officer (David Field), leading to a tense and dramatic conclusion.
Curator's notes
Unfinished Sky successfully blends thriller elements with drama and romance in an understated yet tense and compelling manner. Indeed the use of romance and thriller genre elements are key to the film's effectiveness. The story clearly has themes (such as the need for people from different cultures to make the effort to understand each other; the importance of treating refugees humanely) that key into the hot button political controversies around refugees or illegal migrants triggered by the Tampa incident of 2001. Yet Duncan wisely lets the politics remain unspoken, part of the subtext. The film offers an allegory of Australian inwardness and suspicion of strangers versus refugee vulnerability, yet it never seems obvious, worthy, trite or preachy. It works first and foremost as a gripping story played out by fascinating characters with emotional depth.
Unusually for an Australian film, Unfinished Sky is a remake of a foreign film, the multiple award-winning 1998 Dutch title, De Poolse Bruid (The Polish Bride), which was never commercially released in Australia. The Australian film was spawned from a relationship between local producers Cathy and Mark Overett and Dutch producers Anton Smit and San Fu Maltha. Former business partners in the TV industry, the four created a production company, New Holland Pictures, to make English language features, with Unfinished Sky as its first production. Smit says in media notes that the inspiration for the idea of a remake came from frustration at watching 'beautiful' Dutch films failing to cross over to international audiences because of their language.
De Poolse Bruid (1998) was about a Polish refugee and escapee from the sex trade, played by Dutch actor Monic Hendrickx, who plays the same role in Unfinished Sky, but now as an Afghan refugee. A box-office success in the Netherlands, De Poolse Bruid won the Rotterdam International Film Festival's audience award, best actress prizes for Hendrickx at the Buenos Aires International Festival of Independent Cinema and the Nederlands Film Festival, and was nominated for a Golden Globe for best foreign language film.
The Dutch film, written by Kees van der Hulst and directed by Karim Traïda, remains highly effective yet Unfinished Sky's writer-director Peter Duncan has the confidence to depart from it in significant ways that mark an improvement in every respect. He deepens the lead male character, here called John Woldring (and called Henk Woldring in the Dutch film), making more explicit the character's sense of internal conflict. In the original, Henk Woldring (Jaap Spijkers) seems more distant and unknowable. Duncan also further develops the character's conflict with the lead female character. Another difference is that John seems much more clearly to be the protagonist than his namesake in the first film. The Australian film begins by introducing the audience immediately to John Woldring (the classic and logically obvious way of establishing a story's protagonist). De Poolse Bruid began with the refugee running down a city street, with the implication that the film was principally her story.
Duncan's development of the narrative also removes an implausibility in the script of De Poolse Bruid (1998). The Polish woman had escaped from a city brothel, so it didn't really make sense that her former captors knew to look for her on a farm. In the rural setting of Unfinished Sky, it's logical. Another satisfying addition to the narrative is a blunder made by John to Bob Potter, her former captor. He lies that he saw Tahmeena getting into a truck and heading down the highway, arousing Potter's suspicions towards him in an entirely feasible manner.
Contributing significantly to the enriched character development in Unfinished Sky is McInnes's impressive performance. His achingly haunted expressions betray the depth of John's emotional wounds long before we discover what caused them. Duncan also adds depth to the female lead character. In a departure from the Dutch film, viewers discover something about her family and her reasons for leaving her homeland. Her desire to be reunited with her daughter becomes a significant subplot. It may seem to be asking a lot to expect an actor to recreate a Polish role as an Afghan, but surprisingly Hendrickx is equally credible in both films, her dark skin colour and hair aiding her portrayal of an Afghan. If anything, her performance in Unfinished Sky is even more affecting, perhaps because it gave her more chance to explore ways of understanding her thoughts and emotions.
Unfinished Sky shares certain elements with other Australian films made around the same time. The scenario of a lonely farmer being positively affected by his relationship with a stranger from a different culture who wanders onto his property was seen in the low-budget production Broken Sun (2008, where the stranger was an escaped Japanese prisoner of war during the Second World War). It shares its human trafficking and sex slave elements with The Jammed and its illegal refugee theme with Lucky Miles (both released in 2007). Meanwhile a middle-aged man haunted by his wife's death was a key element of the drama Ten Empty (like Unfinished Sky, released in 2008). Yet in the Australian context Duncan's film feels unique, never remotely familiar.
Unfinished Sky was released commercially on 19 June 2008 after screenings at a number of international and domestic film festivals the previous year, including Toronto, Pusan, Rotterdam and Dubai. Audiences at the Brisbane International Film Festival voted it best feature in 2007 and it picked up prizes for Best Director, Actress, Editing and Production Design at the 2008 IF(Inside Film) Awards. Unfinished Sky was also awarded the jury prize for Best Picture at the 2008 Method Fest Independent Film Festival at Calabasas, California, and won AFI Awards for Best Actor, Actress, Adapted Screenplay, Cinematography, Original Music Score and Sound.