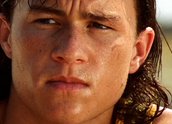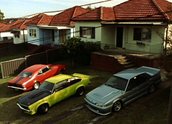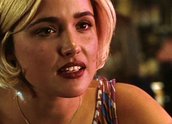 Two Hands (1999)
Synopsis
Jimmy (Heath Ledger), a small-time wannabe criminal, loses $10,000 on Bondi Beach. The money belongs to Pando (Bryan Brown), the toughest criminal in Kings Cross, who sends his killer deputy Acko (David Field) to find him. Jimmy's sister-in-law Deirdre (Susie Porter) agrees to set up an armed robbery, so Jimmy can repay the money. Meanwhile the two street kids who took the money (Mariel McClorey and Evan Sheaves) go on a shopping spree. The ghost of Jimmy's dead brother (Steve Vidler) frequently appears, attempting to keep watch over him, but Jimmy can't stay out of trouble. When he meets up with Alex (Rose Byrne), a sweet country girl he has just met, Pando's men grab him, intending to kill him.
Curator's notes
Two Hands was a refreshing and confident debut from Gregor Jordan, one of the first winners of Tropfest – an annual short film competition – to make a feature. It's a clever mix of genre elements, heavily influenced by US and British comic crime films of the 1990s, but with a strongly Australian vernacular tone. Indeed, the characterisations of Australian criminal types are one of the film's main assets, as is the way that Jordan insists on showing them in domestic situations. Pando, the Bryan Brown character, talks lovingly to his small son on the phone; we see him helping the boy with his origami, just seconds before he sets out to kill Jimmy. One of the film's funniest scenes has Jimmy getting ready for an armed robbery in the lounge room of a suburban house. The experienced criminal Wozza (Steve Le Marquand) talks about the benefits of shotguns as his children crawl around on the floor.
These scenes link to a speech given at the film's outset by the ghost (Steve Vidler), who says that no one is all good or all bad. Pando is a murderer who also loves his kids, crime is his profession, not who he is. At the same time, the film has a few moments of shocking violence that are completely unexpected, and one character (Acko, played by David Field) that really does personify great evil. In a sense, it's a film about the transition from child to adult, innocence to corruption, with Acko as the worst case scenario. Jimmy is on the road to perdition until he meets Alex (Rose Byrne). He has always wanted to work with his hands, he tells her, and she suggests a way out of the life he's leading. The movie is partly an accusation about inequality of opportunity in modern Australia, though the message is well hidden behind layers of confident comedy.