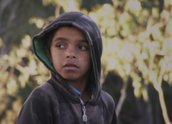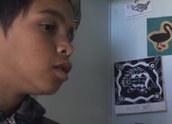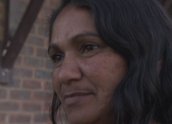 Toomelah (2011)
Synopsis
Ten-year-old Daniel (Daniel Connors) lives in Toomelah, a remote Aboriginal community in north-west New South Wales. He lives with his mother (Dorothy Cubby), a drug user, and sees his ex-boxer father (Michael Connors) hanging around the streets drinking metho (methylated spirits). Daniel aspires to join a gang and runs drugs for local gang leader Linden (Christopher Edwards). Daniel regularly gets into fights and skips school after his teacher removes him from the class. His friend Tanitia (Danieka Connors) always reminds him he can return to school.
His grandmother's sister, Aunt Cindy (Sharron Whitton), comes to stay with the family. Removed from her family as a child, Aunt Cindy struggles to reconnect with the community and Daniel leaves to live with Linden's gang. When a rival drug dealer, Bruce (Dean Daley-Jones), returns from prison, there is a violent confrontation and Linden and his gang are arrested. Daniel is left alone to decide how he will live in the future.
Curator's notes
Toomelah presents the tortured life of a young boy struggling to survive in an environment with rudimentary infrastructure and resources, where the main activities in the community revolve around access to, and use of, drugs and alcohol. It shows an Aboriginal community in the grips of social, cultural and economic decline.
The film is presented from Daniel's perspective as he moves between his school, home, the streets, the drug dealer's house, the river and the local car graveyard. As the title infers, the film represents the Toomelah Aboriginal community in NSW but could in fact be any Aboriginal community in Australia. It looks at the socio-economic conditions within the community and the influence of drugs and alcohol on this young person's life.
The film leaves no stone unturned as it exposes Daniel's mother's drug habit, his father's alcoholism and his role model's drug dealing. Both his grandmother and her sister – who was forcibly removed from the mission on which she lived at a young age – appear disempowered and aloof, providing only momentary support for Daniel. The dysfunction within both the community the boy's home life places Daniel at risk of abuse and ongoing disadvantage. Daniel's friend Tanitia offers the only glimmer of hope in the film with her encouragement for him to return to school.
Writer-director Ivan Sen has spent a lot of time in Toomelah. His mother and her family grew up in the community, which in the 1980s was in the news for having some of the worst living conditions in Australia. Sen filmed at existing locations in the community and all but one of the cast were first-time actors, many of them related to Sen. Daniel Connors, who gives an extraordinary performance, is joined in the cast by his father (playing his father) and sister (playing Tanitia).
As well as writing and directing, Sen also shot and edited the film and played the music. He took on so many roles to minimise the crew on the shoot and make his first-time actors more comfortable.
Toomelah was released in Australian cinemas on 24 November 2011. It premiered at the 2011 Cannes Film Festival in Un Certain Regard. The Film Critics' Circle of Australia awarded Daniel Connors Best Young Actor. At the 2011 Asia Pacific Screen Awards, Connors was nominated for Best Actor and Ivan Sen won the UNESCO Award for outstanding contribution to the promotion and preservation of cultural diversity through film.