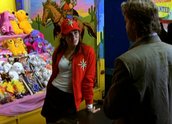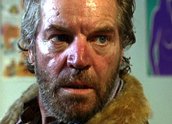 Tom White (2004)
Synopsis
After a meltdown at work, architectural draughtsman Tom White (Colin Friels) walks out on his family and tries to lose himself in alcohol and anonymity. He becomes homeless and derelict in the backstreets of Melbourne. A homosexual prostitute (Dan Spielman) gives him a temporary roof. At a night carnival, he meets Christine (Loene Carmen), a lonely ex-junkie. They become lovers, but he loses her to a vicious attack from a dealer called Phil (David Field). An old veteran of the streets (Bill Hunter) takes Tom in, but then succumbs to a stroke. At rock bottom, Tom White recovers some momentum when he meets Jet (Jarryd Jinks) a kid running wild in the streets. White tries to return to his wife Helen (Rachael Blake) and two kids, but they've moved on.
Curator's notes
Tom White is about a middle-class man facing a catastrophic loss of self. He plummets toward obliteration, seeking the bottom of the heap, but we never really know why. Playwright Daniel Keene suggests initially that it's a crisis of stress and overwork, but he then removes that excuse. Tom was already going over the falls before the work crisis. He loses most of the physical ties to the world within a few days – his job, his wallet, his phone. Erasing his identity takes longer, but it's clear that he wants to erase it. The drinking and drugs serve a purpose, rather than acting as a cause. His succession of friendships – with Christine the ex-junkie (Loene Carmen, from Flirting), Malcolm the veteran derelict (Bill Hunter) and Matt the rent boy (Dan Spielman) – all end badly, reinforcing his belief that it is better not to love, or even feel. The haunting scene in the hospital, where he points to his own face as proof of identity (clip 3) can be read in two ways – it's the last shred of Tom White, the thing he can't erase. Or it's the point at which he reaches the sense of self he's been looking for, the bedrock.
The exploration of such a catastrophic failure is unusual in Australian cinema, as is the poetic way that director Alkinos Tsilimidos explores it. He's not bound to the British traditions of social realism, so the film isn't dingy or documentary-like. It's more like a rich nocturnal fantasy, in a style that suggests Irish director Neil Jordan as an influence. Tom White's crossing the water on the ferry suggests a form of death, reinforced by the moment in clip 1 where he realises he's dripping water in the pub. It's as if a drowned man has entered the pub. Colin Friels's performance is astonishing – one of the best of his career, and one of the main reasons for the film's artistic success.