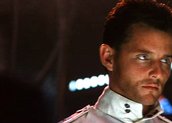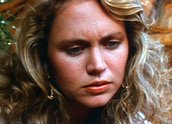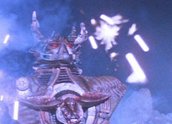 The Time Guardian (1987)
Synopsis
In the year 4039 a city of survivors from the Neutron Wars travels through time and space seeking safe haven from the Jen-Diki, a race of cyborgs intent on wiping out humanity. Soldiers Ballard (Tom Burlinson) and Petra (Carrie Fisher) are transported to the Australian outback in 1988 to prepare a landing site for the city. Petra is wounded and Ballard seeks help from geologist Annie Lassiter (Nikki Coghill). As they battle hostile local police and an advance party of Jen-Diki, Ballard and Nikki fall in love.
Curator's notes
The Time Guardian was one of the most eagerly anticipated Australian movies of the 1980s. Budgeted at $8 million – a massive sum then and still more than most Australian films cost 20 years later – it was the first Australian attempt at producing a genuine science-fiction action spectacular for the international market. A handful of Australian films had used futuristic settings (Mad Max 2, 1981; Turkey Shoot, 1982) or applied a sci-fi ambience (Incident at Raven's Gate, 1988), but none had come forward with spaceships, mutant monsters and intergalactic warfare on the scale promised by The Time Guardian.
Unfortunately this production was dogged by severe problems before, during and after the shoot and failed to live up to expectations. David Stratton's book The Avocado Plantation (1990, Pan Macmillan) examines what went wrong from the perspective of director Brian Hannant (co-writer of Mad Max 2) and the disagreements that occurred between Hannant, his co-writer John Baxter (author of influential reference book Science Fiction in the Cinema, 1970), executive producer Antony I Ginnane and Hemdale Film Corporation, the company that had produced The Terminator (1984) and was pre-licensing The Time Guardian for international distribution. As Stratton notes, 'an entire book could probably be written about The Time Guardian', and it's not hard to imagine a compelling film on the topic either.
As it stands, The Time Guardian is a disappointing run through The Terminator, Star Trek and Alien territory, but is far from an outright disaster. It's a film of many promising elements that fails to click as a whole. While the Jen-Diki cyborg villains are of the cheesy men-in-rubber-suits variety, special effects supervisor Andrew Mason (later the executive producer of The Matrix trilogy) and his team created some eye-catching visuals of the future city as it hurtles through time and space.
A connection between Aboriginal cave drawings and Ballard's city is intriguingly hinted at, but this seems to be one of the many ideas and subplots lost during the film's fraught passage from script to screen. Nikki Coghill is a gallant, down-to-earth heroine, but Tom Burlinson is badly miscast as Ballard. A fine actor whose boyish charm had been well deployed in box-office hits The Man From Snowy River (1982) and Phar Lap (1983), Burlinson gives it his best shot but lacks the imposing physicality required for the role. Not for the first or last time in Australian cinema, imported stars add little lustre to proceedings. Dean Stockwell has almost nothing to do as leader of the survivors, and after making an entrance in one of the more arresting pieces of body-hugging battle armour in sci-fi history, Star Wars series alumna Carrie Fisher spends most of the film injured on the sidelines. The Time Guardian is one of the great missed opportunities of Australian cinema and symbolic of its wavering fortunes in the 1980s. Armed with great confidence and wanting to become a major world player, it often found itself on the wrong end of harsh international funding and marketing realities.
The Time Guardian was released in Australian cinemas on 3 December 1987 and in US cinemas on 4 August 1989.