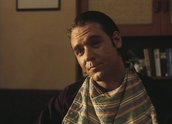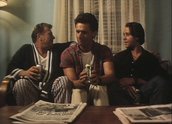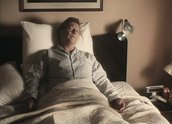 The Sum of Us (1994)
Synopsis
Jeff Mitchell (Russell Crowe) lives at home with his dad Harry (Jack Thompson), in an old weatherboard cottage in a working-class street of Balmain. Harry skippers harbour ferries; Jeff is a plumber. He's also gay – or as Harry prefers to call it, 'cheerful'. When Jeff brings home a new friend after a night at the pub, Harry is eager to say hello. Greg (John Polson) can't believe how accepting Harry is of his son's sexuality. After making sure that Greg practises safe sex, Harry retires to bed, but Greg can't relax enough to get physical. He leaves, and Jeff gets drunk, wondering if he'll ever find a love like that of his grandmother (Mitch Mathews), who lived for 40 years with her friend Mary (Julie Herbert). Harry admits they were lesbians, but he doesn't like Jeff calling them 'dykes'.
Harry is also lonely since the death of his beloved wife. He enrols in a dating agency, where he meets Joyce Johnson (Deborah Kennedy), an attractive divorcee. A romance blooms, and Harry is hoping to get married, but Joyce is horrified when she learns that Harry has not told her his son is gay. She leaves Harry standing in the street on New Year's Eve. He collapses, having a stroke. When he wakes in hospital, he is paralysed and unable to speak. Jeff becomes his father's carer, rigging up a buzzer on Harry's wheelchair so that his father can communicate using his left hand. They see Greg again in the supermarket, but Jeff tries to avoid a meeting. Greg says he has been kicked out of his parents' home, after they saw him on television, dressed as a cowboy in the annual Sydney Gay and Lesbian Mardi Gras parade. Joyce returns to the house in Balmain and is overcome with sadness and remorse. In the Botanic Gardens, Jeff leaves Harry propped in his wheelchair. He returns in high spirits after seeing Greg, who works there. They are going to try another date. Harry cries for joy, as his son hugs him.
Curator's notes
The Sum of Us was a bold and elegantly simple response to the problem of turning a play into a film. Co-directors Kevin Dowling and Geoff Burton simply ignored the problem. In effect, they discarded the concept of a 'fourth wall', the unseen one between audience and actors. The actors talk directly to the film audience, just as they did in David Stevens's original play, which premiered in New York in 1990. This device is relatively well accepted in theatre, much less so in movies, where the illusion of reality is usually closely protected. That risk required the most careful casting, in order to bring the audience along.
Jack Thompson was an inspired choice, because there are few Australian actors with a more instant appeal to Australian audiences. Russell Crowe's inclusion was far more surprising. His international career was about to take off in 1994, after he had made a big impact in Romper Stomper (1992), two years earlier. He had appeared in nine Australian movies between 1990 and 1994, but playing a gay character has always been considered a risk, especially by Hollywood agents. The casting works so well because it shatters all stereotypes. Jeff is a rough, tough, working-class lad who likes to play footy, drink beer and earn an honest day's pay as a plumber.
There were few gay characters in Australian cinema in 1994, and none like Jeff. The Adventures of Priscilla, Queen of the Desert (1994) would open in September of that year, two months after The Sum of Us, but it embraced a series of gay stereotypes, celebrating difference and lampooning the fear of homosexuality. The Sum of Us takes a different path. It's a film aimed squarely at encouraging acceptance and tolerance among the heterosexual community, by example. Jack Thompson's character is an exemplar of a tolerant and loving dad; Greg's father, played by Bob Baines, is the other kind – rigid, bigoted and fearful. In between is Joyce Johnson, the seemingly tolerant woman who reacts unpredictably to the discovery of the truth. All we have seen of her character makes us expect that she will be sophisticated and warm towards Jeff, but she's appalled by the discovery of gay magazines in Harry's house. She accuses him of lying to her, but there is more to her adverse reaction than she wants to admit.
By setting up a range of examples, the film offered straight audiences a choice: which one are you like? In that sense, the film risks relegation to the ranks of a civics lesson, but it manages largely to avoid that by dint of humour. David Stevens's play is very funny and irreverent, and the film retains that and more. It's also much more than a plea for tolerance. It presents three generations of characters, all of whom seek the same thing – a meaningful and long-lasting partnership in love. Each of the generations has a different orientation: lesbian, straight and gay. Treating them as equivalent in the one film was a powerful and original idea for an Australian film.
The Sum of Us opened in Australian cinemas on 21 July 1994. It was nominated for six AFI Awards in 1994: Best Picture, Supporting Actor (John Polson), Supporting Actress (Deborah Kennedy), Editing (Frans Vandenburg) and Sound (John Dennison, John Patterson, Leo Sullivan and Tony Vaccher); it won the award for Adapted Screenplay.