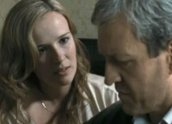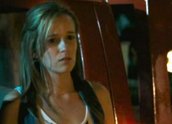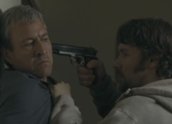 The Square (2008)
Synopsis
Married construction site manager Ray (David Roberts) is having an affair with Carla (Claire van der Boom), a neighbour who lives across the river in a leafy southern Sydney suburb. Carla persuades him to help her steal a bag of illicit cash she discovers her husband Greg (Anthony Hayes) has hidden. To cover the theft, Ray hires an arsonist, Billy (Joel Edgerton), to burn down Carla and Greg's home, but the plan goes disastrously wrong. Ray starts to receive vaguely written blackmail notes. When he confronts the person he thinks is responsible he finds himself getting into even deeper water – his dire situation not helped by his increasing fear and panic.
Curator's notes
The Square is Australian film noir (in this case, neo-noir), the fatalistic crime genre made famous by Hollywood filmmakers of the 1940s and '50s. Director Nash Edgerton wisely avoids pastiche, eschewing the standard 1940s visual genre trappings (dark shadows, venetian blinds). Instead, Nash Edgerton and writers Joel Edgerton and Matthew Dabner, firmly ground the story in contemporary Australian suburbia and treat the character's problems with deadly seriousness.
The picturesque riverside setting and the quintessentially Aussie outdoor BBQ Christmas celebrations set up an idealised picture of suburban life that contrasts ironically with the terrible ordeal undergone by Ray, Carla and Greg – an ordeal entirely caused by their greed and mendacity. The casual discussion of sharks on two separate occasions is a metaphorical sign that all is not well within this suburban idyll. Ray's capacity for corruption is depicted early on when he's on his building site for a luxury resort accepting kickbacks from a contractor. This crooked but apparently harmless act shows a fatal weakness in his character that will come back to haunt him.
The film benefits greatly from taut narrative construction. The script is unrelenting in the way that it keeps piling the pressure onto Ray, and the plot (which includes a surprise late twist) is sufficiently complex and inventive to engage the viewer without becoming confusing. Nash Edgerton's casting of two relative unknowns as Ray and Carla was a risk, but both actors deliver compelling performances.
The Square premiered in competition at the 2008 Sydney Film Festival where it was well received, and it went on to earn mostly enthusiastic reviews on its release. However, the film achieved poor box-office earnings, sparking a media discussion about the failure of even well-written, directed and acted Australian films like this to draw a significant cinema audience. The promotional artwork for the film's DVD release was redone from scratch, with supporting actor Joel Edgerton, well known to TV audiences, the centre of the colourful new campaign.
The Square was released in Australian cinemas on 31 July 2008 and in US cinemas on 9 April 2010. The film was nominated for seven AFI Awards in 2008: Best Film, Director, Actor (David Robers), Supporting Actor (Joel Edgerton and Anthony Hayes), Original Screenplay and Original Music. It was nominated for five Film Critics' Circle of Australia awards, including Best Film, Director and Supporting Actor (Hayes and Edgerton), winning the Best Screenplay prize. It also won the trophy for Best Sound at the 2008 IF Awards (Sam Petty, Rob Mackenzie, Yulia Akerholt, Peter Grace and Michael McMenomy).