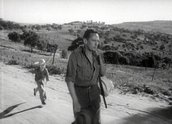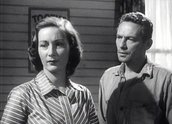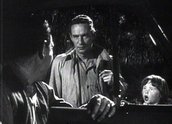 The Shiralee (1957)
Synopsis
On one of his infrequent visits to his wife Marge (Elizabeth Sellars) in Sydney, itinerant bushman Jim Macauley (Peter Finch) finds her living with another man, Donny (George Rose). He beats Donny up, grabs his five-year-old daughter Buster (Dana Wilson) and returns to the road. They walk from job to job in western New South Wales, camping beside riverbanks, until Buster becomes sick with fever. Desperate for help, Macauley takes her to a station where he's not welcome, run by a grazier named Parker (Russell Napier). Macauley learns that years earlier, he made Parker's daughter Lily (Rosemary Harris) pregnant. She lost the baby and almost died. Macauley takes Buster to the next town, where he's welcomed by old friends Bella and Luke Sweeney (Tessie O'Shea and Sidney James). He tries to get the child to stay with the kindly Bella, but she refuses. In another town, while Macauley is courting a pretty girl, Buster is hit by a car. As she battles for her life, Macauley must dash to Sydney to oppose his wife's court bid for custody of the child. He beats the case and returns as Buster opens her eyes in hospital.
Curator's notes
The Shiralee is an iconic Australian story for good reason. It tackles a major theme in Australian life, the masculinity of the culture. It can be argued that there are two major themes in Australian cinema – the problem of the landscape, and the related problem of masculinity – and both are the subject of The Shiralee. Macauley embodies much that other cultures admire about us, and which we have tended to admire about ourselves: he's tough, self-reliant, fiercely independent, able to survive in a harsh natural landscape, hostile to pretence, loyal to friends, and with an innate sense of fairness. He's the digger in the trenches at Gallipoli (1981), the gun shearer in Sunday Too Far Away (1975) and Mick Dundee sleeping on the floor of a New York hotel room because the bed's too soft. He's also inarticulate, anti-intellectual, anti-women on occasion, and incapable of commitment; he drinks too much, can't hold down a job and he makes a terrible father and husband. He's Barry McKenzie and Alvin Purple in the 1970s comedies, Mad Max and Peter Handcock (from Breaker Morant, 1979) in the 80s, Mark 'Chopper' Read and Brett Sprague (from The Boys, 1998) in the 90s. And in 1957, he was Macauley, an itinerant bush labourer who steals his own child in a fit of temper, then must learn to face responsibility for the first time in his life.
A 'shiralee' is sometimes said to be an Aboriginal word for 'burden', but recent scholarship suggests it's derived from Irish and was used as a word for a 'swag' – the rolled-up bedding carried by Macauley in the film. D'Arcy Niland probably picked it up in the 1930s, when he himself was an itinerant farm labourer during the Depression. He went back on the road in the early 1950s, after he had already become well established as a short-story writer, in order to research The Shiralee. It was published in 1955 to wide success, just as Peter Finch's international career was taking off. He completed A Town Like Alice earlier in 1956, then returned to Australia to film The Shiralee, later that same year.
The film was almost entirely a British production and Niland's book was adapted first by the director Leslie Norman, with slight alterations by a Scottish writer, Neil Paterson. Michael Balcon, head of Ealing Films, had objected to the book's foul language, which Norman promised to tone down. Les Norman later told one of Finch's biographers (Trader Faulkner) that he was aware that Finch had his own personal connections to aspects of Macauley, and also to Buster. Faulkner wrote that Finch had felt abandoned as a child, and would in turn abandon his own daughter after the failure of his first marriage.
Dana Wilson, who plays Buster, was an Australian child selected from hundreds who auditioned. 'When Peter met her it was a case of one child meeting another', Norman is quoted as saying. Whatever the situation, it's certainly true that part of the film's appeal is that the father and daughter are portrayed as equals. Macauley hasn't yet become a responsible adult and Buster is already a child of great courage and resourcefulness. It's hard to imagine the film working as well without either actor, but Finch does most of the acting work. He plays Macauley as a slightly haunted man, his aggression papering over an innate sense of weakness. If the film has a sentimental trajectory – the child saves the feckless man – it's given an unsentimental treatment by the harsh way that Macauley treats his new 'burden'.
At the same time, Leslie Norman gives their life on the road a very seductive feeling of freedom, portraying Australia as wide open, libertarian and full of promise – just the kind of idyllic image that has always pleased Europeans interested in dreams of escape, and Australians, raised on the clichés of 'the sheep's back'. The interesting thing about that is that The Shiralee still leaves the viewer with a sense of unease, especially about the masculine culture it depicts. Macauley is a pathetic figure by the film's end – standing helpless at the foot of his daughter's hospital bed with a black eye and nothing but the clothes he's wearing. The film is at least as much a powerful critique of the cult of masculinity as a celebration of what are often considered national virtues.