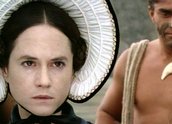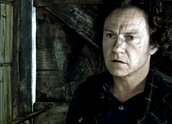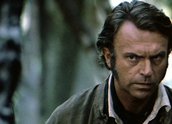 The Piano (1993)
Synopsis
In the mid-19th Century, a sailing ship deposits a young Scottish woman on a beach in New Zealand, with her daughter, her trunks and a crated piano. Ada McGrath (Holly Hunter) has not spoken since she was six, but her piano playing is passionate and expressive. Ada communicates with her daughter Flora (Anna Paquin) through her own sign language; Flora interprets this for others, adding her own layer of fantasy as she sees fit.
Ada has been married in absentia to Mr Stewart (Sam Neill), a man she has never met. He lives on a farm that barely exists. Against her strong protest, Stewart insists they leave the piano on the beach, because the Maori carriers can't bring everything. A few weeks later, Ada persuades the neighbour, George Baines (Harvey Keitel), to take her back to the beach, where she plays the piano till nightfall. Baines pays the bemused Maoris to bring the piano to his makeshift house, trading it for some land that Stewart wants. Ada is incensed, but Baines offers her a deal: she can buy the piano back, key by key, in return for certain favours. At first, he just listens to her playing; then he asks her to remove items of clothing, then he touches her while she plays. Ada continues to refuse her new husband's sexual advances, but she negotiates those of Baines.
Before she has bought the whole piano back, Baines sends it to her house. He is in love and regrets asking her to submit to his deal. Ada then gives herself willingly to him, unaware that her husband is outside the hut, watching. The angry Stewart tries to rape her. He locks her in his house, boarding up the windows. She agrees not to see Baines, but she sends the child to him, with a message of her love, carved into a piano key. Flora takes the message to Stewart instead. His vengeance is swift and terrible. Baines takes Ada and Flora away, with the piano. On a long Maori canoe, Ada tells Baines to throw her beloved piano overboard.
Curator's notes
In terms of awards, The Piano is the most successful Australian film ever produced, but the first of several controversies concerned its identity. It was paid for by a French company (Ciby 2000), developed with Australian funding, shot in New Zealand with American and New Zealand actors, and written and directed by a New Zealander. Jane Campion began writing The Piano in the mid-1980s, even before she directed her first feature (Sweetie, 1989). She was heavily influenced by her love of 19th century English literature, specifically Emily Brontë's only novel, Wuthering Heights, published in 1847.
In thematic terms, it is very specifically about New Zealand, but it was produced by an Australian, Jan Chapman, and Campion was a graduate of the Australian Film Television and Radio School in Sydney. She also lives in Australia. The fact that it was produced by an Australian company qualified it as an Australian film, and it was thunderously successful at the 1993 AFI Awards, winning 11 of the 13 categories in which it was nominated. The general public, on the other hand, saw it largely as a film by a Kiwi, about New Zealand. This was no deterrent: the film was a hit in Australia, as well as everywhere else that it played.
At the same time, The Piano is about the nature of New Zealand society – and the influence of sexual puritanism in its white society. There are two distinctly different views of sexuality in the film, with many shadings in between. The Scottish-born Alisdair Stewart is virtually unable to express his sexual self, except through subjugation of his feelings, and then eruption, which takes the form of two attempts to force himself on Ada. The Maori people are shown as entirely comfortable with their sexual selves, even as children.
Ada and George are the lovers between these two extremes. Baines is a former sailor, who's more comfortable with Maori culture than his neighbour Stewart; indeed, his face tattoos show that he has steeped himself in their language and customs, unlike Stewart, who's totally ignorant of their ways. Baines sets out to take what he wants in the bargain he offers Ada. He is direct and unafraid to be physical. Love for Ada is not part of his plan, but it comes partly out of the music she draws out of the piano. He has sensitivity, where Stewart has only manners.
Ada's sexuality is entirely more mysterious, as is everything about her. We're never really told about her first relationship, which produced the child Flora, nor does she know why she stopped speaking at the age of six. What is clear is that she pours all of her expressive desires and emotion into her playing, to an extent that discomforts Stewart's maiden Aunt Morag (Kerry Walker). Ada is willing to sacrifice everything for her creativity, not just her virtue, but her life. At the same time, Ada's sexuality, once awakened, becomes extremely powerful and inextricable from the pleasure she feels at the piano. She cannot speak, but she can feel and express that feeling through her fingers (an idea that's continually developed as a theme by shots of hands and fingers).
In a sense, The Piano is a film about an artist and, as such, it fits with some of Campion's earlier work, particularly An Angel At My Table (1990), the story of New Zealand writer Janet Frame. In another sense, it's the story of a woman whose passionate nature is akin to a form of madness – and that is another constant theme in Campion's work, where 'female' and 'hysteria' are frequently associated. The Piano also admits a strong sense of male hysteria, the worst of which is expressed in Stewart's violence towards Ada's fingers. Female hysteria, in The Piano, is a much more benign force, although certainly dangerous. It results, in Ada's case, in both silence and music.
The music in the film was written by Michael Nyman, but Holly Hunter performed the solo pieces herself. She also invented the sign language that Ada uses to communicate with Flora. Hunter's performance was recognised first at the Cannes Film Festival in 1993 where she won best actress. Jane Campion shared the festival's top prize, the Palme d'Or (Golden Palm), with Chinese director Chen Kaige (for Farewell My Concubine, 1993). Campion was the first woman to win the Palme d'Or.
The Piano then went on to win the Academy Award (in 1994) for best actress (Hunter), best supporting actress (Anna Paquin) and best original screenplay (Jane Campion). It was nominated in five other categories, including best director and best picture. The 11 AFI awards included best picture, director, original screenplay, score, editing, actor (Keitel), actress (Hunter) and cinematography (Stuart Dryburgh). Anna Paquin was not nominated for an AFI award, but Sam Neill and Kerry Walker were (and missed out). The Piano took more than $40 million at the US box office, and it was a hit in most parts of the world.