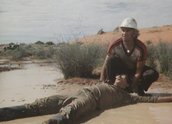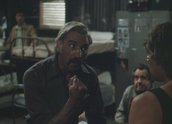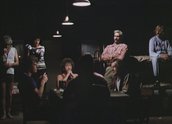 The Last of the Knucklemen (1979)
Synopsis
A group of opal miners live in a tin shed near the outback town of Andamooka in South Australia. The foreman, Tarzan (Gerard Kennedy), is known as 'the last of the knucklemen' for his ability as a bare-knuckle fighter. Tarzan's rival is Pansy (Mike Preston), a hothead scheming to provoke Tarzan into a contest with town brawler Carl (Steve Rackman). Caught in the middle of Pansy's plan are Tassie (Stewart Faichney), Horse (Dennis Miller), Mad Dog (Steve Bisley), veteran miner Methuselah (Michael Duffield) and new arrivals Monk (Michael Caton) and Tom (Peter Hehir). When Pansy brings Carl to challenge Tarzan, Tom reveals himself as a karate champion and takes on Carl.
Curator's notes
Following a string of hits including the iconic Stork (1971) and Alvin Purple (1973), director Tim Burstall continued and developed his interest in the theme of Australian masculinity with The Last of the Knucklemen, an adaptation of the play by John Powers which was first performed in 1973. Sharing some similarities with Sunday Too Far Away (1975), about life in a shearer's shed in 1956, The Last of the Knucklemen is a portrait of rough-hewn contemporary Aussie males living, drinking and gambling hard in the great emptiness of the outback.
The isolated shed houses a microcosm of Aussie manhood in various states of disrepair. Pansy and his co-workers are fringe dwellers and outsiders who've chosen either to reject mainstream life or are running away from disappointments and/or trouble. Tassie has a broken marriage; Mad Dog is haunted by nightmares from his past; Horse is a 'wog' long before the term became a badge of pride for European-Australians; and Tom is a fugitive from the law.
Only Monk seems untouched by trauma but the impression is the longer he stays in the shed the more likely he'll become like the others. The veteran of the crew is Methuselah, who intends spending every cent he's earned on a trip to the big city. In the movie's dramatic centrepiece he bets his life savings in a single hand of poker with Pansy and angrily rejects Tarzan's attempt to stop him raising the stakes (see clip three).
Like the alcohol-fuelled men staking their wages in outback drama Wake in Fright (1971), characters such as Pansy and Methuselah show how gambling is deeply ingrained in Australian culture, to the point where it's seen as an inalienable birthright. Far from being devastated by the outcome the loser is strangely uplifted by being trumped by a winning hand he has never seen before. This tense and incisive scene ranks as one of Burstall's finest moments as a director. Often derided for his avowedly commercial approach and frequently critical himself of the 'serious' side of Australian cinema, Burstall demonstrated here he could also produce work of quality and substance.
Filmed near the tiny outpost of Andamooka (interiors were shot at Cambridge Studios in Melbourne), The Last of the Knucklemen is tightly controlled and very well acted by a testosterone-heavy ensemble of seasoned pros and newcomers including Michael Caton (star of The Castle, 1997) in his feature debut, and Steve Bisley, Goose in Mad Max (1979). Gerard Kennedy, famous for his role as detective Frank Banner on TV cop show Division 4 (1969–75), is terrific as the no-nonsense foreman; Mike Preston (Pappagallo in Mad Max 2, 1981) is ideally cast as Pansy, a hothead seething with the knowledge he's no fighting match for Tarzan; and Steve 'The Crusher' Rackman, one of pro wrestling's great villains, makes a powerful impression as the brawler Pansy hopes will knock Tarzan off his perch.
The Last of the Knucklmen received some of the best critical notices of any Tim Burstall film but proved disappointing at the box office when it opened on 12 July 1979. The film had a low advertising budget and limited release and was in direct competition with several other Australian features screening at the same time. Knucklemen was the last film made under the Hexagon Productions banner that had successfully linked production, exhibition and distribution in Australia for films like Alvin Purple (1973) and Petersen (1974).
The Last of the Knucklmen was nominated for seven AFI Awards in 1979: Best Actor (Mike Preston), Supporting Actor (Michael Duffield), Adapted Screenplay (Tim Burstall), Original Music (Bruce Smeaton), Sound (John Phillips, Edward McQueen-Mason and Peter Fenton), Art Direction (Leslie Binns) and Costume Design (Kevin Regan).