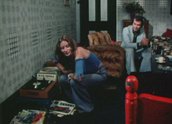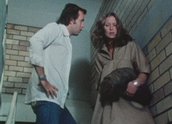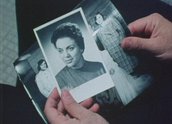 The Golden Cage (1975)
Synopsis
Murat (Ilhan Kuyululu) and Ayhan (Sait Memis Oglu) are Turkish migrants living in Sydney. Murat, a crane operator, is haunted by memories of a girl (Emel Ozden) he left behind in Istanbul. Ayhan has made an easier transition to life in the new country. Younger than Murat and a dedicated ladies' man, Ayhan falls in love with Sarah (Katie Shiel). In letters from home, Ayhan's father disapproves strongly of his relationship with an 'infidel'. Ayhan is determined to take Sarah home to Turkey as his bride, but she refuses to convert to Islam and leaves Ayhan. But Sarah is pregnant, and Ayhan is determined to win her back.
Curator's notes
The Golden Cage was the first Australian feature film directed by a woman since Two Minutes Silence (1933) by Paulette McDonagh. Ayten Kuyululu (born 1930) was a Turkish migrant who settled in Sydney after seven years in Sweden, where she made the TV drama The Outsiders. A professional opera singer who established the Australian Turkish People's Playhouse with her husband, Ilhan, Kuyululu appeared in episodes of the TV crime dramas Matlock Police (1971–75) and Ryan (1973) before directing and starring in A Handful of Dust in 1974.
A remarkable 40-minute drama about a Turkish migrant whose romance with a fellow Turk is shattered by a blood feud, A Handful of Dust earned Kuyululu the opportunity to make The Golden Cage, also concerned with the Turkish community in Sydney. Casting Ilhan (also the film's producer) as Murat and Sait Memis Oglu as his younger and more confident friend Ayhan, Kuyululu earnestly examines the universal theme of migrants dealing with cultural, economic and social challenges in their adopted country.
The early passages are seen primarily through the eyes of Murat, a crane operator on the waterfront who is saving to buy a truck and start up his own business. A rather lonely figure, he is haunted by memories of a woman he left behind in Istanbul and despite romantic success with several Australian women he has difficulty forming emotional connections. More in tune with 'the Australian way of life', Ayhan pursues Australian women and falls in love with Sarah, a bohemian type who frequents the restaurant where he works as a waiter. But as 'Australian' as he might be, Ayhan remains Turkish in his attitude to marriage and responds angrily when Sarah refuses to convert to Islam (see clip two).
There is no doubting Kuyululu's sincerity in examining the cross-cultural difficulties facing the protagonists, but the impact of The Golden Cage is diluted by the lead actors delivering almost all their dialogue in English. A decision imposed on Kuyululu by the film's funders, this attempt to make the film more accessible to local audiences backfires. Had Oglu and Ilhan Kuyululu spoken in Turkish the drama would have flowed much more smoothly and been more authentic. Instead, audiences are left wondering why these Turkish friends hardly utter a word to each other in their first language. Some of the most effective scenes are those (few) in which subtitles are used. One is a lively, documentary-like exchange between Ayhan and a group of new immigrants who compare what they were promised in the new country with what they've found.
Despite its shortcomings The Golden Cage is a commendably honest depiction of the migrant experience in 1970s Sydney that's very well shot on prime city locations by cameraman Russell Boyd (Picnic at Hanging Rock, 1975; Crocodile Dundee, 1986). The cast and crew list includes future director Phillip Noyce, producer-director David Elfick and director Frank Shields.
Like the similarly-themed Promised Woman (1975, directed by Tom Cowan), about an arranged marriage in the Australian-Greek community, The Golden Cage was not commercially successful. It premiered at the International Women's Festival in August 1975 and received only scattered screenings in the following months. Ayten Kuyululu, who hoped to realise an ambitious historical drama based on the 'Battle of Broken Hill' in 1915, returned with husband Ilhan to Turkey at the end of the 1970s, where she continued to work on film projects. In 1989 she wrote and directed Suçlu mu Piyon mu? (Is he Guilty or is he a Pawn?).