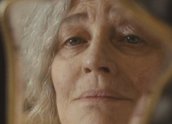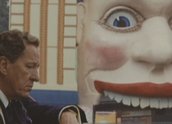 The Eye of the Storm (2011)
Synopsis
Washed-up, UK-based thespian Sir Basil (Geoffrey Rush) and Dorothy (Judy Davis), an impoverished minor European princess, return to their Sydney family home as their eccentric, wealthy mother, Elizabeth Hunter (Charlotte Rampling), recovers from a stroke.
The siblings are more interested in their inheritances and, in Basil's case, sexual conquests than their mother's wellbeing. But Eiizabeth's delusions and devious mind games clearly demonstrate responsibility for her children's neuroses and flawed behaviour. Beneath her smiling demeanour lies a selfish, manipulative monster.
Curator's notes
It is perhaps surprising that it has taken so long for the first adaptation of a novel by Nobel Laureate Patrick White to reach the screen. The White-penned script for director Jim Sharman's The Night the Prowler (1978) – arguably an interesting failure – is the only previous feature film to spring directly from his work (though some of his writing has been adapted for television).
Paul Byrnes's description on this site of The Night the Prowler as 'a savage satire on the neuroses of the privileged of Sydney's eastern suburbs' could apply equally to this handsomely mounted yet sharply chiselled feature.
That it springs to life with such vigour and humorous bite owes much to the canny script by actor-turned-screenwriter Judy Morris, the assured direction of Fred Schepisi (a veteran of successful literary and stage adaptations) and a dream cast.
Charlotte Rampling, Geoffrey Rush and Judy Davis give exemplary performances in the three lead roles, but the film also introduces a lively new screen presence in the shape of Alexandra Schepisi (the director's daughter) as Nurse Flora, while Colin Friels shines in a cheeky cameo role as a randy Australian parliamentary opposition leader.
Wearing its debts to King Lear on its sleeve, The Eye of the Storm functions most effectively as a satirical takedown of the parochialism of the culturally-cringing Australian middle-class that White found so suffocating in 1970s Australia (the novel was published in 1973, the year he won the Nobel Prize for Literature).
The film's major characters depend on a spurious connection to Europe for their sense of worth. Dorothy hangs on to her title after her divorce from a minor European prince. Basil parades his honorary title, yet has recently been savaged by the British critics for his portrayal of Lear on the English stage. Elizabeth indulges in memories of her flirtations with her daughter's royal ex-husband. Flora plots to give birth to the son of a 'Sir', and housekeeper Lotte (Helen Morse) clings to her past as a cabaret performer in Germany.
These are not attractive characters, but the film humanises them by also portraying their vulnerability. They are people who are not meant to be hated, but pitied.
The Eye of the Storm was released in Australian cinemas on 15 September 2011. At the inaugural AACTA Awards, it won prizes for Best Actress (Judy Davis), Production Design (Melinda Doring) and Costume Design (Terry Ryan) and received nine additional nominations: Best Picture; Director; Actor (Geoffrey Rush); Actress (Charlotte Rampling); Supporting Actor (John Gaden); Supporting Actress (Helen Morse and Alexandra Schepisi); Adapted Screenplay (Judy Morris); and the AFI Members' Choice Award for Best Film. It was also nominated for Best Picture, Actor (Rush) and Actress (Davis) at the 2011 IF Awards.