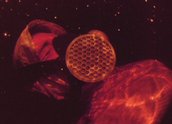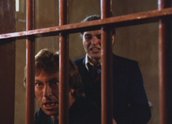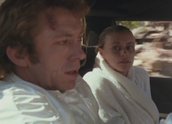 The Chain Reaction (1980)
Synopsis
Deadly radiation is released following an accident at the WALDO nuclear waste facility in central Australia. Heinrich (Ross Thompson), a scientist at the facility who has been exposed to a fatal dose of contaminated water, escapes into the countryside where he meets holidaying couple Larry (Steve Bisley), a car mechanic, and his wife Carmel (Arna-Maria Winchester), a nurse.
Given orders to kill Heinrich and anyone he might have spoken to, WALDO security agents Gray (Ralph Cotterill) and Oates (Patrick Ward) close in on Heinrich, Larry and Carmel. Heinrich makes contact with Eagle (Hugh Keays-Byrne), an anti-nuclear campaigner who arrives on the scene determined to save Larry and Carmel and expose the cover-up by WALDO.
Curator's notes
An exciting conspiracy thriller starring Mad Max (1979) alumnus Steve Bisley, The Chain Reaction was released in Australia at a heightened time of awareness about issues surrounding nuclear energy. A low-level exporter of uranium, Australia does not produce nuclear energy for domestic consumption but in the late 1970s speculation mounted about moves to create a nuclear waste industry. Written by Ian Barry before the influential movie The China Syndrome (1979) and the Three Mile Island near-disaster, The Chain Reaction works effectively as an anti-nuclear statement and a straight-ahead thriller about an ordinary couple caught up in extraordinarily dangerous circumstances.
Making his feature directing debut after editing the Aussie cult favourite Stone (1974), Barry is well served by his taut screenplay and the services of a top-notch cast and crew. Steve Bisley and Arna-Maria Winchester hit just the right note as the everyday couple whose romantic getaway without the kids turns into a nightmare. There's a nice streak of larrikin humour and dry wit about Larry, even when his frisky evening with Carmel is interrupted by Heinrich's sudden appearance (see clip one).
As the tone of the movie becomes much darker, Larry and Carmel become a resourceful heroic pair who are able to give the sinister WALDO corporation a run for its money (see clip three). Elsewhere there are fine contributions from Ralph Cotterill and Patrick Ward as the assassins and Hugh Keays-Byrne (another Stone and Mad Max veteran) as Eagle, the eccentric anti–nuke campaigner (see clip two).
Distinguished Australian cinematographer Russell Boyd (see The Last Wave, 1977, and Gallipoli, 1981) shows the flair which led to a highly successful international career (see Liar Liar, 1997; Ghost Rider, 2007), and production designer Graham Walker decorates the screen with great touches such as the car bonnet fireplace at Larry and Carmel's holiday house (see clip one). The radiation burn make-up effects by Lesley Lamont-Fisher are also scarily believable.
One of the film's most eye-catching elements is its location. A once-thriving shale mining town that had been abandoned for many years, Glen Davis makes an eerie and very effective setting for the tale of cover-ups and skulduggery by the WALDO corporation. It's worth noting that at the time of filming there were no mobile phones and the production team had to rely on a local telephone exchange which closed in the evenings.
With terrific car-chase sequences directed largely by George Miller of Mad Max (1979) fame (Miller is credited as associate producer and directed the stunt and car-chase scenes when main unit shooting fell behind schedule), The Chain Reaction is an intriguing and pacy thriller which stands up remarkably well today.
The Chain Reaction was released in Australian cinemas on 25 September 1980. It was released theatrically in several European territories and was nominated for seven AFI Awards including Best Supporting Actress (Lorna Lesley), Cinematography (Russell Boyd), Editing (Tim Wellburn), Original Music (Andrew Thomas Wilson), Sound (Lloyd Carrick, Tim Wellburn and Phil Judd), Costume Design (Norma Moriceau) and Production Design (Graham Walker).