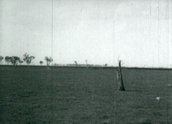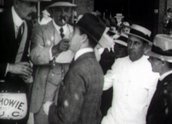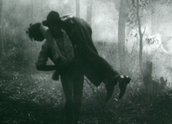 The Breaking of the Drought (1920)
Synopsis
Wallaby Station in the outback is devastated by drought. The sheep are starving, but Jo Galloway (Charles Beetham) and his wife (Nan Taylor) battle on. Their son Gilbert (Rawdon Blandford) falls in with the wrong crowd while studying medicine in Sydney: conman Varsy Lyddleton (John Faulkner) and the seductress Olive Lorette (Marie La Varre). Gilbert forges his mother's cheques to pay for Olive's favours, ruining the family. A bank takes 'friendly possession' of Wallaby Station. Gilbert's sister Marjorie (Trilby Clark) keeps her brother out of jail, but he becomes a tramp, after Lyddleton murders Olive and kills himself. Marjorie's suitor Tom Wattleby (Dunstan Webb) saves Gilbert from a bushfire, just as the drought breaks, restoring the family's fortunes. Marjorie and Tom can now wed, as the sheep and cattle fatten on rich pasture.
Curator's notes
Franklyn Barrett was one of the most experienced cameramen in Australia when he made The Breaking of the Drought, but no-one would accuse him of being a great director of actors. He had been a musician, press photographer and newsreel cameraman before he directed A Message from Mars, a short fiction film in 1903 in New Zealand. For the next eight years, he shot actuality footage for scenics and newsreels all over the world, working from 1909 for Pathé Freres, the French company that invented newsreels around 1908. He photographed at least 21 films between 1911 and 1921, 13 of which he also directed. The only two that survive of those 13 are this one and A Girl of the Bush (1921), made straight afterwards.
It's clear that The Breaking of the Drought was intended to draw audiences with its graphic footage of the real drought. Barrett had photographed terrible scenes of dying sheep and cattle in Moree and Narrabri, in northern New South Wales, in December 1919, but the film did not open until June 1920, by which time the drought had broken. Barrett based the film's story on a 1902 play by Bland Holt, a renowned purveyor of stage melodramas, but by 1920 this was very old-fashioned, as critics of the film pointed out. Still, it allowed Barrett to fashion a feature film relatively cheaply around the Moree-Narrabri footage, and to include some more topical urban footage – see clip two for scenes of Randwick races.
The resulting film, though not complete, shows that the scenario was of lesser importance to Barrett. The film glosses over gaping lapses of logic without a care, substituting action for credibility, as in clip three, where horse and rider are saved from fire by leaping into a river. This takes place before the drought breaks a few frames later, so we must assume it had already rained further upstream. The actuality is of much more interest, as it gives us some real images of the severity of the 1919 drought in that area.
This was of particular concern at the time. As recounted in Pike and Cooper's Australian Film 1900-1977 (1980, Oxford University Press, Melbourne), a NSW MP asked questions in Parliament after watching some of the filming. He was concerned that the film would show Australia's rural areas in a bad light to overseas audiences. The Office of the Chief Secretary investigated and reassured the Member that the Minister for Customs, under new legislation, could prevent the film's export if it was considered harmful to the Commonwealth. Pike and Cooper noted that this legislation completed the censorship cycle. 'What was bad outside was kept out, and what was bad inside was kept in.'
The print held by the National Film and Sound Archive runs 82 minutes. It is substantially complete, having been reconstructed from two incomplete prints, the last of which was recovered from under a Sydney house in 1976. The reconstruction is missing a scene which featured a water ballet and diving, an odd inclusion in a film with this title, although it was perhaps part of the theme of a decadent city taking water for granted.