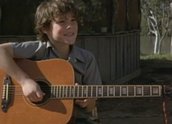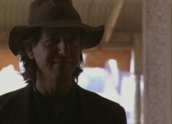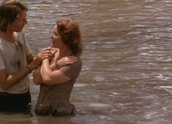 That Eye, the Sky (1994)
Synopsis
Twelve–year-old Morton 'Ort' Flack (Jamie Croft) lives in the outback with his father, Sam (Mark Fairall), mother Alice (Lisa Harrow), older sister Tegwyn (Amanda Douge) and senile Grandma Flack (Alethea McGrath). On his way to work for local mechanic Cherry (Paul Sonkkila), Sam is critically injured in a car accident. Paralysed and unable to speak, Sam returns home. His need for full-time care creates tension between Alice and Tegwyn, while Ort speaks to an intelligence he believes resides in the sky, hoping it will cure his father.
One day a mysterious stranger arrives. It is Henry Warburton (Peter Coyote), an American with strong religious convictions who says he has come to help Sam. Cautious at first, Alice allows Henry to stay. As time passes Henry wins Alice's trust and makes a strong impression on Ort, promising him a miracle to cure Sam. But Alice begins to wonder if Henry has other motives.
Curator's notes
Based on Tim Winton's 1986 novel, That Eye, the Sky defies easy categorisation. An intriguing mix of family drama, wish-fulfilment fantasy and coming-of-age story, it brings a mystical aura to the outback that recalls films such as Picnic at Hanging Rock (1975), The Last Wave (1977) and, more recently, One Night the Moon (2001) and Wolf Creek (2005).
Containing little action in the conventional sense, this examination of a family in crisis and a stranger who promises to restore its fortunes is a meditation on faith and redemption. In the half-hour before Henry arrives, director John Ruane (Death in Brunswick, 1991) and co-scriptwriter Jim Barton carefully detail the effect of Sam's accident. A sensitive boy on the cusp of adolescence, Ort is bewildered. His sister, Tegwyn, resents having to also look after her senile grandmother and wants to leave school and boring country life behind. Alice, who later reveals she ran away from unspecified troubles 20 years ago to live a hippie-like dream with Sam, can see her life falling apart emotionally and financially.
The Flacks are at their most vulnerable when Henry knocks at the door, offering help and expecting nothing in return (see clip two). A charismatic and persuasive speaker who looks like a dignified Depression-era hobo, Henry brings hope and the promise of salvation. As he becomes a father figure to Ort and persuades Alice to accept his form of religion (see clip three), mystery slowly intensifies around whether, as Tegwyn suspects, the stranger's motives aren't as honourable as they appear.
Although the special effects are rather poorly executed, the strange golden glow enveloping the house at night – visible only to Ort – adds a mystical dimension, suggesting that belief in something beyond the rational can provide comfort in troubled times. Gloriously photographed in Wentworth, NSW, by Ruane's regular cinematographer, Ellery Ryan, That Eye, the Sky is very well performed by a cast of Australian newcomers and experienced overseas actors. Lisa Harrow, a New Zealander who joined the Royal Shakespeare Company in 1969, brings depth and dignity to Alice. Peter Coyote ( Bitter Moon, 1992; A Walk to Remember, 2002) expertly underplays the enigmatic Henry, and Jamie Croft is charming as the disarmingly honest and inquisitive Ort. Douge is outstanding as the teenager whose rejection of Henry and his religion is powerfully juxtaposed with her growing awareness of her sexual power.
Selected for Critics Week at the 1994 Venice Film Festival, That Eye, the Sky is a rare example of an outback drama with metaphysical and supernatural elements presented in an utterly realistic mode. The finale may not satisfy viewers who demand neat conclusions, but many of its images and the themes it explores will linger long in the memory of others.
That Eye, the Sky was released in Australian cinemas on 28 September 1995. It was nominated for nine AFI Awards in 1995, including Best Picture, Actress (Harrow), Director, Adapted Screenplay, Cinematography (Ellery Ryan), Production Design (Chris Kennedy) and Costume Design (Vicki Friedman); it won awards for Supporting Actress (Amanda Douge) and Young Actor (Jamie Croft).