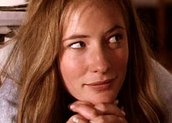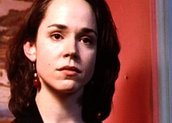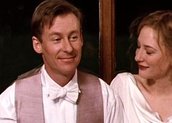 Thank God He Met Lizzie (1997)
Synopsis
Guy (Richard Roxburgh) meets Lizzie (Cate Blanchett) while trying to find the owner of a cat in distress. For him, it is love at first sight and within six weeks they decide to marry. Guy starts daydreaming about his old girlfriend Jenny (Frances O'Connor) and by the time the wedding day arrives, Guy's memories of Jenny are coming thick and fast, often at the most inopportune moments. During the reception, several incidents cause Guy to doubt Lizzie's sincerity. On their wedding night Lizzie tells Guy that she thinks the relationship has a better chance of survival if they acknowledge they are not perfect and give each other a certain amount of freedom.
Curator's notes
The tagline used on the poster was 'The love of your life … isn't always the one you marry'. Thank God He Met Lizzie is a romantic comedy with a twist: it's not particularly romantic, as the tagline suggests, though it is very entertaining, well observed and has plenty of laughs. It also has a serious side.
Set in two time periods, it tells two stories. One is about Guy marrying Lizzie after a short whirlwind romance. The other is set in the past and is a portrait of Guy's long de facto relationship with Jenny. By intercutting these two stories, the filmmakers have created a very satisfying contemplation on romantic love and commitment.
In 1997, in the lead-up to the film's local November release, director Cherie Nowlan said she wanted to explore the phenomenon of serial monogamy, which became very prevalent after the 1960s, and the tendency for people to marry at about the time they reach their 30s after several long relationships. The film has lots of romance and laughs but does not fit the rules of romantic comedy. If it did, Guy would dump his new bride, given the doubts he feels on the day of their union, and run back to Jenny.
The film is serious enough about its subject matter and too grounded in reality to become a happy-ever-after fairytale. The trio of young lead actors have lifted their characters off the page and made them intriguing and all the other characters are also well-drawn – much of the film's comedy comes from incidental vignettes involving minor characters, although Jenny's playfulness is also amusing.
The film is confidently structured and writer Alexandra Long, a published novelist, has cleverly used Guy's letters to Fong as a narrative device. While reading it to the guests he discovers that the congratulatory letter from Fong, the Vietnamese boy that he sponsors, is a fake. It was written by Lizzie's mother and Lizzie was in on the ruse. 'We had to compromise,' entreats Lizzie, 'that's life.'
Long and Nowlan collaborated on two shorts before making this debut feature at a cost of $2.25 million. It was shot over seven weeks from July to September 1996.
Thank God He Met Lizzie was released in Australian cinemas on 20 November 1997. It was nominated for five AFI Awards in 1997, including Best Actress (Frances O'Connor), Editing, Production Design and Costume Design. Cate Blanchett won the award for Best Supporting Actress. The same year, Richard Roxburgh won Best Actor (for Doing Time for Patsy Cline, 1997) and Frances O'Connor was also nominated for Best Actress for Kiss or Kill (1997).