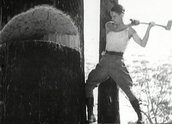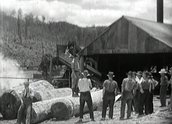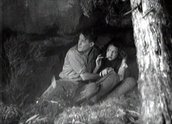 Tall Timbers (1937)
Synopsis
Jim Thornton (Frank Leighton) saves a young woman, Joan Burbridge (Shirley Ann Richards), in the surf at Palm Beach, Sydney. He then goes to work for her father, Stephen Burbridge (Harvey Adams) as a timber-cutter. Joan's fiancée, Charles Blake (Campbell Copelin), works for a rival timber company. He has secretly bribed one of Burbridge's foremen, Darley (Frank Harvey), to sabotage a major contract bid. Thornton's degree in forestry helps him foil the plot and he takes over Darley's job. In desperation, he devises a plan to stage a timber drive – a method of clear-felling a hillside in one go by toppling trees onto each other. Thornton and Joan are almost killed when the plan goes wrong. Thornton then reveals his secret; he is Stephen Burbridge's long lost son, and he intends to marry Joan, Burbridge's adopted daughter.
Curator's notes
Tall Timbers is a classic silent melodrama, only it was made in 1937, with full sound! The story was by Frank Hurley, the famous photographer who specialised in naïve plots with strong locations and a pot of gold for the victor. He had directed his own silent features in New Guinea and the Torres Strait Islands, but joined Cinesound in the early 1930s when the Depression made permanent jobs scarce. He was the chief cameraman on Cinesound's second and third features (The Squatter's Daughter and The Silence of Dean Maitland), and lead cameraman, with George Heath as second camera, on their next two (Strike Me Lucky and Grandad Rudd). Heath then took over as chief cameraman, largely because studio production head Ken G Hall wanted a softer kind of Hollywood lighting that Hurley couldn't, or wouldn't, provide. Hurley's expertise in the outdoors was legendary, but Cinesound was less inclined to undertake location work once Ken Hall had invested in the equipment required to produce credible back projection (See Thoroughbred). Hurley's last film for Cinesound was Lovers and Luggers, where his scenic shots of Thursday Island locations were used primarily as back projection. He was shooting these scenes as George Heath shot Tall Timbers, which Hall and the actor Frank Harvey (who plays Darley) had adapted from Hurley's story idea.
Tall Timbers isn't one of Ken Hall's best films, but it made a profit, as did all but one of their 17 films. The finale, in which a whole hillside of trees was to be made to fall in one long chain reaction, was eventually shot as a miniature in the studio. This was after repeated attempts to stage the real thing on a property near Gloucester, NSW, had failed. J Alan Kenyon created a fake forest using tree branches and slices of sponge for the leaves. The trees were felled by pulling a series of levers, with wires attached to the trees (the wires are just visible in one or two shots). The film is also notable for its opening scene, which depicts boardriders at Palm Beach, just north of Sydney, one of the earliest depictions of the sport in a feature film.