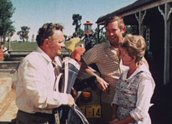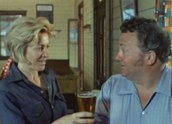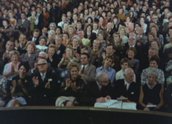 Sunstruck (1972)
Synopsis
Welsh schoolteacher and choirmaster Stanley Evans (Harry Secombe) migrates to Australia. His dream of a new life in sunny Sydney is upended by a posting to Kookaburra Springs, a tiny town in western New South Wales. Boarding at the pub run by Mick Cassidy (John Meillon) and his wife, Sal (Dawn Lake), Stanley is cautiously welcomed by pub regulars Norm (Norman Erskine), Pete Marshall (Peter Whittle) and Banjo (Jack Allen). After suffering numerous practical jokes played by his students, Stanley decides to form a school choir. While Stanley finds romance with local farmer Shirley Marshall (Maggie Fitzgibbon), Mick secretly enters the choir in a national competition. Mick's son, Stevie (Dennis Jordan), replaces the Kookaburra Springs audition tape with a recording of Stanley's acclaimed Welsh school choir. Kookaburra Springs is accepted into the competition and travels to Sydney to perform.
Curator's notes
Like many Australian features made in the '60s and early '70s, Sunstruck is an interesting oddity that's rarely been screened since it was released in late 1972. It was directed by James Gilbert, a British TV producer and director whose credits include UK comedy series The Two Ronnies (1971–87) and Not Only … But Also (1965–70). The lead role is played by Welsh entertainer Harry Secombe. One of the most popular performers in postwar Britain, Secombe was a member of influential radio comedy troupe The Goons (alongside Spike Milligan and Peter Sellers).
Secombe had successfully toured Australia several times and was cast as Stanley Evans, a Welsh schoolteacher and choirmaster who suffers romantic disappointment in Wales and decides to take a teaching position in Australia. At the time of filming the New South Wales government was running a campaign in the UK to attract teachers to Australia. The campaign poster – seen in the film – shows a schoolteacher dressed in academic robes and swimwear standing on Bondi Beach. In an early fantasy sequence, Stanley imagines himself in this very situation.
Supporting roles were assigned to many popular Australian performers. Bobby Limb, a producer, musician, and comedian who hosted TV variety show Bobby Limb's Sound of Music (1963–70), played Bill, the local pilot (see clip one). Limb's wife, Dawn Lake, appeared as Sal, the wife of publican Mick Cassidy (John Meillon, The Sundowners, 1960; Crocodile Dundee, 1985). British comic Derek Nimmo (from All Gas and Gaiters, 1966–71) makes a cameo appearance in the closing minutes of Sunstruck.
Although the tone of Sunstruck is markedly different, it shares some basic plot similarities with Wake in Fright (1971). Both concern a British teacher who is posted to a small outback community and has difficiulty adapting to the climate and the culture. While Wake In Fright depicted the isolation of its protagonist in dark and menacing dimensions, Sunstruck plays Stanley's culture shock for gentle laughs. Mick, Sal and the rest of the locals do not want Stanley to flee Kookaburra Springs like his predecessors. They recognise his ability as an educator and take steps to combat the pranks played by their unruly children. Mick uses the promise of a trip to Sydney to keep the youngsters in line at school and helps pave the way for Stanley's romance with local farmer Shirley (see clip two).
Also in common with Wake In Fright (1971), and many Australian films of this era – The Adventures of Barry McKenzie (1972) is a good example – is the depiction of Australian drinking culture. As with the teacher in Wake In Fright, 'Welsh Pom' Stanley gains acceptance by getting drunk and showing how 'Aussie' he's become. Again, the tone is much lighter here. It is also interesting to note that Stanley's romance with Shirley begins over a beer and choir practice is also held at Mick and Sal's pub (see clip two).
Music is the positive force in Stanley's difficult adjustment to life in the outback. Led by young Stevie Cassidy, the children of Kookaburra Springs stop playing pranks on the teacher soon after he forms the school choir. Initially their motives are purely selfish, with a trip to Sydney being the reward. But as the choir improves under Stanley's direction the children develop genuine respect and affection for their good-natured instructor. By the time the choir takes to the stage in Sydney (see clip three) Stanley has indeed become 'Aussie', but in his own willing way.
Sunstruck was filmed in Treharris, Wales, and near Parkes in western New South Wales and attracted only moderate box-office results in Australia. An investor in the film was Australian TV and features production house NLT Productions, which was also involved in Wake In Fright (1971) and Squeeze A Flower (1970).
Sunstruck premiered at Parkes on 18 November 1972 and was released in Australian cinemas on 22 December 1972.