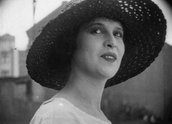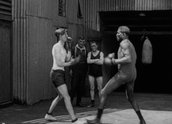 Sunshine Sally (1922)
Synopsis
Sally (Yvonne Pavis) resigns from her job at a laundry after supporting her friend Tottie (Joy Revelle), who has been sacked. She rejects marriage proposals from Spud Murphy (John Cosgrove) and Skinny Smith (Dinks Paterson), who embark on a boxing match at Sydney Stadium to resolve what each of them sees as their continued right to Sally. Spud and Skinny make up over a drinking session but are imprisoned for being drunk, disorderly and assaulting police.
After being rescued from a near-drowning, Sally falls in love with her rescuer, Basil Stanton (Lionel Lunn), stepson of wealthy Potts Point parents, Constance and James Stanton (Sheila Moore, Mervyn Barrington). Sally's stepmother Katie Smith (Mrs Hutton) reveals that she and her husband had been involved in the infant Sally's kidnapping from the Stantons. With Sally's marriage imminent, Skinny marries Tottie, while the grog-loving Spud marries and is reformed by a Salvation Army woman he has met at the prison gate.
Curator's notes
Australian films with a slum setting were a recurrent genre in the decade after working-class suburbs featured in Raymond Longford's highly successful The Sentimental Bloke (1919). Longford visited slum districts twice more, in Ginger Mick (1920) and The Dinkum Bloke (1922); Franklyn Barrett filmed there for The Breaking of the Drought (1920); Lawson Harris set much of Sunshine Sally in a slum; and Tal Ordell used slum backgrounds for a children's film, The Kid Stakes (1927). In most of these films slums were viewed as dens of squalor, lack of opportunity, crime and villainy in contrast to the 'nice' suburbs of Sydney's middle and upper-middle classes. The shadow of The Sentimental Bloke looms large over Sunshine Sally, influencing its setting, characters and the working-class slang of its intertitles. But Sunshine Sally is very much its own film, and is one of the best of all surviving Australian silents.
Sunshine Sally herself was a character with aspirations similar to those of Doreen, wife of The Sentimental Bloke in Longford's film. Yvonne Pavis (AKA Marie Pavis), who played Sally, also made a contribution to the filmmaking process similar to Lottie Lyell, who had played Doreen and contributed to the production of Bloke and other Longford films. Pavis, a London-born vaudeville actress with 12 years' experience in American films, was co-producer, with Lawson Harris, of Sunshine Sally and the two other films they made in Australia, Circumstance (1922) and Daughter of Australia (1922). Everyones magazine, on 14 June 1922, quoted Harris saying that Pavis' all-round ability was essential to the success of their company.
Lawson Harris had come to Australia in 1920 to work as production manager on Arthur Shirley's feature The Throwback, a film that was abandoned after budget and legal problems. In May 1921 Harris and Vera Ramee set up a Sydney-based screen acting academy, and in February 1922 he and Yvonne Pavis formed a company eventually called Austral Super Films. Its intention was to produce feature films cheaply for a world market, all of which would feature Pavis in leading roles. Circumstance (1922), the first of their Australian films, was a seduced-and-abandoned tale all too common in the 1910s and '20s, but it proved profitable. The second, A Daughter of Australia (1922), was also a financial success, its story charting a fraught romance between a squatter's daughter and an Englishman accused of murder who seeks refuge on a cattle station.
Sunshine Sally's story and script were written by veteran actor John Cosgrove, who played the role of bottle collector Spud Murphy. Filming occurred in October-November 1922, some of it late at night to accommodate Cosgrove's appearances in a stage play. The slum location was the Sydney working-class district of Woolloomooloo, also the setting for other Australian slum films between 1919 and 1927.
Sunshine Sally premiered in December 1922, but unlike its two predecessors did not earn a profit. Soon after the film's release, Pavis and Harris travelled to the US saying they would return to Australia to produce on a larger scale. In early 1923 Pavis and Harris married in America, but the marriage lasted only 20 days and they were divorced in 1925. Harris next married the actress Dolores Johnson, and from the 1940s their son became widely known as the screen actor (and eventually producer-director) John Derek.
While crucial scenes are now missing from the end of Sunshine Sally, enough exists from the film's first half to deliver an acutely observed, highly entertaining portrait of Woolloomooloo and its characters. Central to the film's Australian identity are Sally's friends, Spud Murphy and Skinny Smith, who strike sparks in their rivalry for Sally, culminating in a farcical boxing match, which – due to a ban on women spectators – Sally and Tottie decide to attend in male drag. The rivalry between Spud and Skinny provides some of the film's most delightful scenes, making the viewer wish that Harris and Pavis had made as much of them as Raymond Longford had made of Arthur Tauchert's similar working-class character The Sentimental Bloke. Cameraman Arthur Higgins turned Woolloomooloo into a character in its own right, its introductory street shots taking a documentary approach to record Spud and Skinny's work routines.
Yvonne Pavis' performance as Sally is crucial to the film working as well as it does. Sally is determined not to let others get the better of her, hurling soapsuds into the face of the laundry boss and gently rejecting Spud and Skinny's marriage proposals. Pavis brings sensitive restraint to the rejection scenes, and palpable embarrassment to the one in which a society matron she is hoping to impress is lost for words when Sally pours tea into a saucer to blow on it before drinking.
Unlike The Sentimental Bloke, which totally accepts its slum characters, Sunshine Sally's outlook on its slum people becomes judgemental, the first half's naturalism eventually overbalanced by melodramatic distinctions between what it sees as the imperfect poor and flawless rich. The second half also lacks the first half's strong plotline, packing in too many incidents while abandoning the slum story for one in which all characters achieve middle-class respectability. By then, only John Cosgrove's Spud Murphy, reformed as a Salvation Army officer, captures the funny side of such abrupt transformations by projecting false piety mingled with sorrowful regret when waving away the drinks tray.