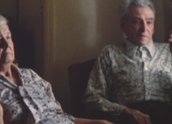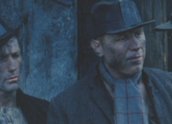 Strikebound (1983)
Synopsis
Strikebound is based on real events in Gippsland, Victoria in 1937, where Wattie Doig (Chris Haywood) is employed at the Sunbeam coal mine and his wife, Agnes (Carol Burns), is a member of the Salvation Army. Angered by poor pay and dangerous conditions, the miners present demands to company manager Birch (David Kendall). Birch refuses to negotiate, prompting the miners to strike. With union organisers Idris Williams (Hugh Keays-Byrne) and Charlie Nelson (Rob Steele) coordinating efforts, Wattie emerges as a spokesperson and Agnes forms a Women's Auxiliary to support the men. Scab labour hired by the company eventually join the strike, and shots are fired at Agnes and Wattie.
Curator's notes
One of the most impressive film debuts of the 1980s, Strikebound was written and directed by 25-year-old Richard Lowenstein. A graduate of Swinburne Film and Television School in Melbourne (now Swinburne University of Technology), Lowenstein was well known as a music video director whose 1982 clip for 'Talking to a Stranger' by Hunters and Collectors is an undisputed classic of the genre. Lowenstein might have been expected to make his feature bow with the type of flashy visual exercise chosen by many music video directors – Russell Mulcahy's Razorback (1984) is a good example – but instead turned to a story of working-class struggle that brings to mind the social realism of British filmmaker Ken Loach.
Strikebound is based on Dead Men Don't Dig Coal by Lowenstein's mother, Wendy, a social activist and one of Australia's most distinguished authors of oral histories. A rare example of Australian political filmmaking, it takes a sympathetic look at one of the most significant events in the nation's industrial history. The Sunbeam Colliery strike of 1937 was the first sit-in (occupation) by workers and its ultimate success provided a great boost for the Australian trade union movement – especially during the Depression when jobs were scarce and workers were not protected by many of the laws passed in the postwar era.
The opening segment of Strikebound is critical to its success. It features the real Wattie (a long-standing member of the Australian Communist Party) and Agnes Doig speaking nearly 50 years after events about to be dramatically recreated (see clip one). The film automatically acquires authenticity and an emotional connection with the audience – these are the actual people and have lost none of their left-wing convictions. Also highly effective is the use of excerpts from Coaldust (1948) and the ironically titled Beautiful Melbourne (1947), made by politically active filmmakers Eddie Allison and Ken Coldicutt respectively. By the time the opening sequence finishes with a song about the mine being a 'dirty old hole', a vivid sense of time and place has been established.
Chris Haywood and Carol Burns are excellent as Wattie and Agnes. To prepare for sitting in a disused mine in Wonthaggi, Haywood met extensively with Wattie Doig and learnt about safety procedures. With a likeable streak of larrikin in his portrayal, Haywood is utterly convincing as Doig the miner and Doig the militant industrial relations advocate. One of the strongest features of the movie is its acknowledgement of the role played by women such as Agnes Doig. Carol Burns is marvellous as the religious-minded wife who sees no conflict whatsoever in being a Salvation Army member and organising the women's support group (see clip three).
Although the film's left-wing sympathies are boldly and proudly displayed, Lowenstein's script never descends into didacticism and he puts a human face to mine management and authority figures such as the police. When matters are becoming heated at the mine and arrests are called for by management, one can clearly sense the reluctance of police to take action against workers with such legitimate claims. Perhaps the most vital achievement of Strikebound is portraying the class divide in Australia. Very few local features have approached this subject, partly because Australia is still a young country practically untouched by the kind of political upheaval that motivates people to identify themselves as belonging to a particular social strata.
Strikebound reminds us that working-class Australia not only exists but struggled mightily to overcome the type of unfair treatment handed out to Wattie and his workmates. With fine supporting performances from David Kendall, Nik Forster and cult favourite Hugh Keays-Byrne, Strikebound was beautifully filmed by Lowenstein's long-serving cameraman Andrew de Groot. It was also the first feature credit for editor Jill Bilcock, whose illustrious credits include Evil Angels (1988), Romeo + Juliet (1996) and Moulin Rouge! (2001). In the end, Strikebound is a stirring, very human tribute to the great Australian ideal of 'a fair go for everyone'.
Strikebound was released in Australian cinemas on 20 September 1984. It was nominated for nine AFI Awards in 1984: Picture, Actor (Haywood), Actress (Burns), Adapted Screenplay, Cinematography (Andrew de Groot), Editing (Jill Bilcock), Sound (Dean Gawen, Gethin Creagh, Frank Lipson, Martin Oswin and Rex Watts) and Costume Design (Jennie Tate); it won the award for Best Production Design (Tracy Watt, Harry Zettel, MacGregor Knox and Neil Angwin).