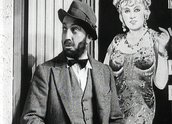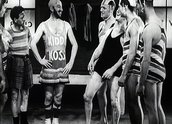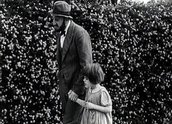 Strike Me Lucky (1934)
Synopsis
Broke and behind his rent during the Great Depression, 'Mo' McIsaac (Roy Rene) tries to find work to support a young orphan girl he finds dancing for pennies in the street. Miriam ('Baby' Pamela Bevan) is really the missing daughter of rich aristocrat, Major Burnett (Dan Agar), but Mo has no idea that there is a $500 reward. Gangster Al Baloney (Eric Masters) and Mae West impersonator Kate (Yvonne Banvard) plot to kidnap the girl as Mo and his sidekick Donald (Alex McKinnon) try out a succession of disastrous jobs. When Miriam leads Mo back to the mansion where she lives, Mo is blamed for her disappearance. He and Donald take off into the bush on a bicycle, looking for a gold mine, where they're attacked by a tribe of cannibals. Back in the city, their names cleared, the major throws a spectacular ball in Mo's honour.
Curator's notes
'Strike Me lucky' was one of the catchphrases Roy Rene made famous in his stage act in the 1920s, along with 'cop this' and 'you beaut'. His fame as a stage comedian and vaudeville actor was based on his 'stage Jew' stereotype and his 'blue' humour, which relied on clever double entendres and Rene's highly developed stagecraft. It was said he could have an audience in stitches by the way he walked on stage. By the early 1930s, the vaudeville theatre circuit was dying because of the rise of talking movies. Rene took the logical step of moving into pictures, but he wasn't comfortable in the medium. Strike Me Lucky, made by Ken G Hall at Cinesound, was his only film, and it flopped. Parts of it show us what made Rene so successful, but it's much harder to laugh at his Jewish stereotype now. His persona was modelled heavily on English music hall comedians, including Chaplin, but by the 1930s, he also looks like he's modelling himself on Groucho Marx.
The film is certainly imitating the formula of some of their big successes of the early 1930s, with a nonsensical story involving two youngsters in love – an heiress and an aviator – and a grand slapstick finale in a big, beautiful house. The Holocaust made Rene's kind of humour impossible in later years, because it was too close to the Nazi caricatures about Jews – but audiences in the 1920s and 30s did not have the same inhibitions.
Humour based on race was common, and in Rene's hands, it could be subtly turned back onto the audience. The website of the Adelaide Jewish Museum quotes Max Harris, who was the ghost writer of Mo's Memoirs:
'There he would be, leering, spitting, expostulating, and celebrating every ugly vulgarity to be found in a society rich only in inhibitions, self-delusions and respectable hypocrisies. You can laugh at the grotesque in front of you, he seemed to be saying, laugh at the sub-human stage Jew, but he is you. And I'm going to prove it. And he did. He and his audience laughed at the worst in themselves.'
Racially based humour has hardly disappeared in Australia, either. The success of Nick Giannopoulos is evidence of that, but there is no longer much evidence of an ethnic Jewish humour in Australian comedy. That begs the question of whether it is better to be invisible and ignored, or visible and potentially offensive?