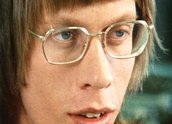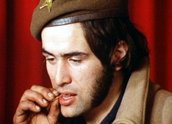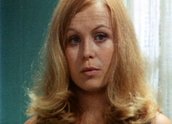 Synopsis
Stork (Bruce Spence) is a gangly young man, a virgin with an overactive imagination who thinks he's a revolutionary. Bored with a design job at General Motors Holden in Melbourne, he drops out and moves into a share house with his mate Westy (Graeme Blundell). He daydreams his way through life, bungling job interviews, upsetting 'respectable' people, and getting drunk. The only girl in the house, Anna (Jacki Weaver) resists Stork's advances, because she's already involved with the other two resident males, Tony (Sean McEuan) and Clyde (Helmut Bakaitis). When she becomes pregnant, Tony and Clyde are shocked to find that Stork and Westy could also be the father. Clyde and Anna decide to marry, so Stork and Westy disrupt the wedding with a fire-hose.
Curator's notes
Stork was a commercial and critical success for Tim Burstall after the disappointing response to his first feature 2000 Weeks. That success was important in a film industry that was then struggling to re-establish itself. The film was independent, low-budget, homegrown and popular, at a time when the Australian public was suspicious of the quality of Australian films.
Stork is based on David Williamson's first play, The Coming of Stork, which Burstall's wife Betty Burstall had premiered at La Mama, her café-theatre in Melbourne, in 1970. The play was co-directed by young actors Alan Finney and Martin Phelan, and had only nine performances, but it was popular. The film was made largely with private money and Tim Burstall began the distribution himself, hiring the St Kilda Palais theatre in Melbourne to screen the film to enthusiastic audiences. In the meantime, Alan Finney had begun working at Village Roadshow, writing study guides for schools. Stork became one of the first Australian films that Village Roadshow would distribute. Its success led directly to the formation of Hexagon Productions, a partnership between Village Roadshow and the companies that made Stork (Tim Burstall and Associates and Bilcock and Copping Films). This was the first time that distribution and production were integrated in one Australian company, a model that has rarely been possible since. Hexagon was a major force in the commercial revival of an Australian film industry, producing a string of popular films, among them Alvin Purple and Petersen, both directed by Tim Burstall.
Like those two films, Stork tells the story of a young man struggling to find his place in a society in flux. Stork's reveries touch on politics, the arts, feminism, business and sport, none of which he's cut out for, allowing Williamson and Burstall to lob some satirical bombs. The humour is fast, broad and occasionally uneven, but the film has energy and inventiveness. The performances of Bruce Spence and Jacki Weaver – both in their feature film debuts – add considerably to the film's charm. Both actors were honoured at the 1972 Australian Film Awards, where they shared the acting prize. Stork won the prize for best narrative feature and Tim Burstall won best direction.
Tim Burstall would later say: 'Stork was the first of the so-called 'ocker' comedies (it preceded Bazza McKenzie and Alvin Purple). Its social milieu is the Carlton counter-culture of the 60s. The targets of its humour are the social goals and values of the middle-classes – conformity, ambition, marriage, the pretensions of the corporate world or the academic and art establishments. To everyone's amazement, Stork turned out to be the first Australian commercial feature success since the 50's'.