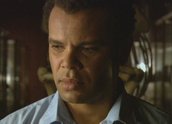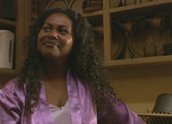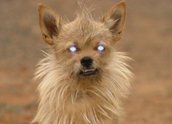 Stone Bros. (2009)
Synopsis
Eddie (Luke Carroll) works as a cleaner in a museum. His cousin Charlie (Leon Burchill) loves smoking cannabis, partying and having fun. While visiting Eddie at his workplace, Charlie knocks over a large photographic display causing both men to flee the scene. Eddie decides to leave Perth and head home to Kalgoorlie, to return a rock his uncle had given him years earlier. He later finds out his uncle also gave Charlie a rock with the same condition attached of returning it.
The cousins embark on their road trip inland. Along the way they come across a 'new age' copper (Peter Phelps), pick up a hitchhiker (Valentino del Toro), and later their cousin, Regina (David Page). On arrival back to their home community, Charlie throws away his marijuana and the two cousins fulfil their obligation to their uncle.
Curator's notes
This lighthearted film, sprinkled with magic and surreal imagery, takes its audience on a journey full of humour and good fun. Director Richard Frankland, making his feature film debut, entertainingly contrasts the two lead characters, cousins Eddie and Charlie. Charlie is black and okay in his own skin, while Eddie has a chip on his shoulder: he thinks he doesn't look black enough. Charlie is a 'stoner' party boy and Eddie wants to be a culture man but the two share a bond of family, culture and country.
Frankland took a different tack to other Australian Indigenous filmmakers in writing and directing a comedy as his first feature. In presenting humour as a form of medicine, Stone Bros. reflects the way Aboriginal peoples use laughter as a communal balm. He uses slapstick to challenge the representation of Aboriginal peoples and produces laughs in the face of disadvantage, with reference to a missing jacket and healthcare card.
The film focuses on the dynamic between the two lead characters Eddie and Charlie, and includes the sideline stories of Vincent the hitchhiker, their cousin Regina, formerly Reggie, and the new age copper. The female characters play only marginal roles with very little dialogue, but the wrath of Charlie's partner Rhonda (Rohanna Angus) manifests as a menacing form of magic and continually torments Charlie until he realises the error of his ways. This underlying thread intermittently surfaces throughout the storyline to represent the esoteric power of Aboriginal 'magic'.
The MA15+ classification due to strong drug references ignited a controversy. Frankland claimed the rating hampered the film's ability to reach its target audience with its anti-drug message. Even though the film portrays regular drug use it also scorns the habit as a social and emotional crutch. Charlie, empowered by being in his country again, tosses away his last joint. I viewed Stone Bros. as an Aboriginal comedy celebrating the kinship, connection to country and cultural heritage of the main characters rather than as a 'stoner' comedy.
The film's lyrical soundtrack features Richard Frankland, the John Butler Trio, Mary G, Tjimba and the Yung Warriors, Sara Storer, and the Charcoal Club, with an original score by Shane O'Mara.
Frankland is an award-winning director of short films (including From Sand to Celluloid – No Way to Forget, 1996), documentary (Harry's War, 2000) and television (The Circuit – It's a Long Way Home, 2007; Double Trouble, 2008). Stone Bros. is part of a new body of Indigenous-directed feature films and sits alongside Darlene Johnson's Crocodile Dreaming (2006), Rachel Perkins's Bran Nue Dae (2009), Warwick Thornton's Samson and Delilah (2009) and Bec Cole's Here I Am (2011).