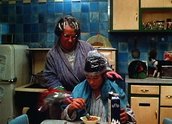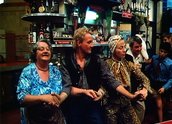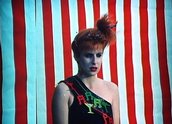 Starstruck (1982)
Synopsis
Teenage cousins Angus (Ross O'Donovan) and Jackie Mullens (Jo Kennedy) live in the Harbour View Hotel, beneath the Harbour Bridge in Sydney's Rocks. Jackie is 18 and wants to be a singer; Angus is 14 and writes songs, while avoiding school and dreaming up wacky schemes to get his cousin noticed. The brewery wants to repossess the pub, so the teenagers set out to win a national talent contest, with a cash prize of $25,000.
Curator's notes
Starstruck is an energetic rock musical comedy, with a kitsch aesthetic – somewhere between a celebration of Australiana and an episode of the iconic 1970s TV rock show, Countdown.
The script came from the collaboration of producer David Elfick and scriptwriter Stephen MacLean, who had worked together on GTK, the ABC's ground-breaking rock music show, and at Go-Set, the music and surfing magazine. MacLean had grown up in a pub with various aunts, and thought it would make a good background for a story.
The iconography is stridently Sydney, with Brian Thompson's production design emphasising the then popular graphic possibilities of the Sydney Harbour Bridge (aka The Big Coathanger) at every opportunity. The musical members are very much influenced by the style of early 80s glam-rock video clips, as are the fashions. The antic style of comedy is also strongly influenced by the musical comedies made for The Beatles in the 1960s by Richard Lester (Help! and A Hard Day's Night).
Gillian Armstrong was very clearly aiming at a feminist revision of depictions of working class and/or masculine Australia. The pub is run by two strong women – Pearl and Nana, the grandmother of Angus. Most of the men who hang around the pub are no-hopers (like Angus's father, who steals money from the safe) or Max Cullen's Reg, who's devoted to his pet cockatoo, Wally. A very funny sequence in a rooftop pool satirises the masculine image of Australian life-savers, in a gay water ballet, choreographed to look like a routine from an Esther Williams musical.
All of this gaiety and colour somewhat obscures the film's threadbare story-line, and lack of any dramatic tension – but audiences at the time were very receptive. The film was reasonably successful in Australia. It was cut from 105 minutes to 94 minutes for its US release, and remixed. This is the only version now available.