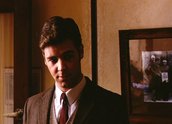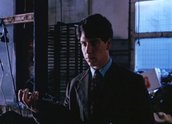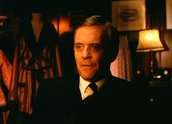 Spotswood (1992)
Synopsis
In the dockside Melbourne suburb of Spotswood, business efficiency expert (Anthony Hopkins) tries to save a run-down moccasin factory that hasn't made a profit for years. The boss, Mr Ball (Alwyn Kurts) has been selling off assets to keep his eccentric work force in employment. Mr Wallace (Hopkins) enlists Carey, a young employee (Ben Mendelsohn) to help his research, but Carey is lovesick over the boss's beautiful daughter Cheryl (Rebecca Rigg). Cheryl only likes a thrusting young sales executive, Kim (Russell Crowe). As Mr Wallace's marriage falls apart, he begins to question his recommendation to sack 60% of the workers.
Curator's notes
The death of Australian manufacturing is an unusual topic for a comedy, but Spotswood manages to pull it off, partly by avoiding an explicit statement of that theme. The film establishes a sense of an enclosed and close-knit community, both in the factory in which these people work, and the suburb in which they live. There is no distinction really, since the employees of Ball's carry on with their hobbies during work hours, and structure their leisure around work relationships.
These connections are in turn carried on into family relationships, since many of the people who work at Ball's are related. The smashing of these structures, through a proposed 'modernisation', then becomes the destruction of the whole suburb, which may be the reason the film is called Spotswood, rather than 'The Moccasin Factory'. The inclusion of another full-scale dispute, as a sub plot, suggests a further widening of the meanings, as we see what happens when Mr Wallace's recommendations for mass sackings are deliberately leaked to union leaders. The film is charming, funny, eccentric and affectionate towards its characters, with a series of winning performances but it's based on a clear and subtle analysis of the very real problems that Australian industry was facing in the early 1990s, when the film was made.