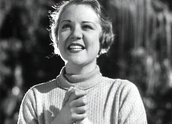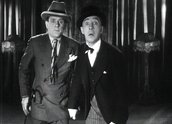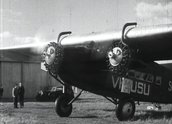 Splendid Fellows (1934)
Synopsis
Monty Ralston (Frank Leighton), amateur aviator and dissolute son of an English shipping magnate, is shipped off to Australia in an effort to reform him. After almost getting arrested at a two-up game, he and his manservant Thompson (Leo Franklin) are invited to visit the McBride family at their farm. Expecting the worst, Ralston is pleasantly surprised especially by Eileen McBride (Isabelle Mahon), the sprightly daughter of Mr and Mrs McBride (Frank Bradley and Peggy Ross). An old friend of his father's, the Reverend Arthur Stanhope (Eric Colman) turns out to be a former First World War flying ace, who visits his parishioners by plane. Ralston and Stanhope determine to build a new plane, to enter the Centenary Air Race, from England to Australia. Ralston promises to win the race, after Eileen promises to marry him if he does.
Curator's notes
This was the last film of Beaumont Smith, one of the more colourful directors of the silent era, a showman who was noted for the speed, if not the quality, of his productions. When others took months to make a film, Smith took weeks, but he appears to have taken extra time and care on Splendid Fellows, a film with an accomplished sense of comedy and a complex plot. Smith's direction of actors was always uneven, but that partly seems to depend on the actor concerned, and the character they were asked to play.
One of the 'attractions' of this film was that the flying parson was played by Eric Colman, brother of then popular Hollywood idol Ronald Colman. The fact that Eric couldn't act was beside the point – he brought in customers. Sir Charles Kingsford Smith, the famous Australian aviator, was brought in for the same reason, to take the cast for a joyride around Sydney in his famous plane, the Southern Cross. The death of Kingsford Smith a few years later now makes this footage much more precious.
The film deals entertainingly with English preconceptions about Australia and vice versa. The film is partly a continuation of the 'Hayseeds' comedies that Beaumont Smith began making in 1917, although the McBride's are much more worldly-wise than the Hayseed family. The story of an English 'new chum' finding his future in the colonies was already hackneyed in 1934, and audiences stayed away.