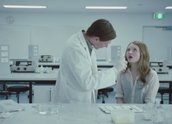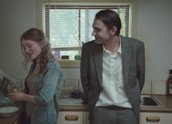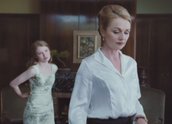 Sleeping Beauty (2011)
Synopsis
University student Lucy (Emily Browning) works a number of jobs – medical researcher's guinea pig, waitress, part-time escort. Unable to pay her rent, and threatened with eviction by her flatmates, she answers an advertisement in a student newspaper to become a lingerie waitress at private dinners for wealthy older men.
Having passed her audition with flying colours, she is promoted by enigmatic mistress Clara (Rachael Blake) and starts working in an upmarket brothel. Her work involves her being drugged and lying naked and unconscious for the voyeuristic pleasure of her older male clients. Lucy finds herself increasingly wondering what occurs to her while she sleeps.
Curator's notes
Sleeping Beauty is a strikingly accomplished, highly stylised and mysteriously ambiguous debut feature that wears its artistic ambitions on its sleeve. Its challenging and occasionally obscure content, and highly formal style, create a film unique in Australian cinema – one best approached as a richly atmospheric dream-film than a conventional attempt at narrative storytelling.
The film marks novelist-turned-writer-director Julia Leigh as a confident new cinematic voice, a perception bolstered when the film had its international premiere in the 2011 Cannes Film Festival's prestigious official competition – a relatively rare honour for a first-time director. Her promise was confirmed by the release of Daniel Nettheim's film, The Hunter (2011), adapted from Leigh's novel of the same name, later in the same year.
Leigh's debut has various cinematic echoes and antecedents, including: Luis Buñuel's Belle de Jour (1967), the story of a housewife prostitute; David Lynch's Mulholland Dr. (2001), with its surreal, dream-like logic; Stanley Kubrick's erotically troubled dreamscape of Eyes Wide Open (1999), as well as the sterility of the space station in his 2001: A Space Odyssey (1968), and Kubrick's career-long fascination with dehumanisation as a theme; and Catherine Breillat's Romance (1999), with its exploration of perverse female sexuality (interestingly Breillat released a film in 2010 called The Sleeping Beauty). None of these are names commonly seen in discussions of Australian cinema.
It's interesting however that Leigh credits only non-cinematic sources as the inspiration behind the screenplay – the Sleeping Beauty fairy tale; the 1961 novella House of the Sleeping Beauties (by Yasunari Kawabata) and Gabriel Garcia Marquez's story Sleeping Beauty and the Airplane (1992), 'which each told the tale of an older man who reflects on his life as he pays to spend the night with a drugged young girl.' In addition Leigh says she was influenced by a 'recurring nightmare in which people unknown were filming me in my sleep', along with a pornographic internet phenomenon in which girls are filmed while purportedly asleep.
As a narrative the film poses a challenge for many viewers, due to its protagonist's inscrutability and overall passivity, the general lack of dramatic conflict, and – as co-starring actress Rachael Blake has pointed out – the absence of a conventional three act structure.
Passive protagonists are often problematic in drama, though it should be added that Lucy is rather a woman who makes the active decision to work for Clara's establishment and ultimately to allow her body to be used while she is unconscious – a decision she finally comes to question. Lucy appears to see herself as a strong and independent woman, but by the end of the film her view of herself appears to be seriously challenged. Leigh told Filmmaker Magazine that she didn't see the character as 'simply passive. I see her as having a more radical personality — perhaps her perverse provocation to the world is, "My cheek is turned, try me".'
Lucy's character is something of an abstraction. She is an emotionally detached woman whose motives are rarely entirely clear (for instance, she seems motivated to work in the sex industry to pay the rent, but then later we see her burning a bank note). The only times we see her behaving with any warmth or human concern is when she visits her ailing male friend, Birdmann. It's a tribute to Emily Browning that Lucy comes alive so vividly on screen. The role went to Browning after the original lead, Mia Wasikowska, pulled out of the project.
Sleeping Beauty plays with our perceptions of oddness and normality. Scenes in everyday locations such as a science lab or the office where Lucy works part-time are made bizarre thanks to dialogue and behaviour a few steps beyond psychological realism. Conversely, the almost surrealistic brothel scenes are presented as if the behaviour they depict (including a peculiar tea-drinking ceremony used to drug Lucy) are perfectly quotidian events.
Geoffrey Simpson's cinematography and Annie Beauchamp's production design make significant contributions to the film's visual impact. Also worth noting is the sparsely used but moodily effective score by Australian-born, Iceland-based musician-composer, Ben Frost.
Filmmaker Jane Campion mentored Leigh during pre-production and post-production and the film was released under the title 'Jane Campion Presents…'. As Campion knows from the reaction to her own debut, Sweetie (1989), a Cannes competition invite can be a mixed blessing for a debutante director. Leigh's film received a non-plussed reception from some critics, though it also found strong supporters.
Interpretations of the film among more thoughtful commentators have differed widely, from it being about sex and control through work and wages (Indiewire), to Lucy being a metaphor for Australia (blogger Matt Ravier).
That the film can invite such widely differing interpretations reflects its reluctance to signpost its meanings. Its highly suggestive mixture of thematic elements – personal independence, sex, passivity, surrender, youth versus age, the differing power wrought by money and flesh, and the possibility or otherwise of a life lived without emotional commitment – are encouraged to circulate in a kind of dream state that fights literalism.
Sleeping Beauty was released in Australian cinemas on 23 June 2011. It was selected for the official competition at the 2011 Cannes Film Festival and received three AACTA nominations: Best Cinematography (Geoffrey Simpson), Production Design (Annie Beauchamp) and Costume Design (Shareen Beringer). Emily Browning was nominated for Best Actress at the 2011 Film Critics' Circle of Australia Awards and Julia Leigh won the Australian Directors' Guild prize for Best Director.