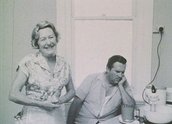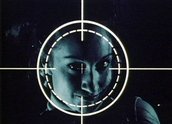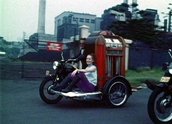 Shirley Thompson versus the Aliens (1972)
Synopsis
In the mid-1960s Shirley Thompson (Jane Harders) lives in a mental asylum. She tells a sceptical Dr George Talbot (Tim Elliot) and Dr Leslie Smith (June Collis) about her encounter with aliens ten years ago. In 1956, Shirley escapes the drudgery of suburban life with her overbearing mother Rita (Marion Johns), alcoholic father Reg (John Llewellyn) and boring suitor Harold (Helmut Bakaitis) by hanging out with 'widgies' and 'bodgies' – the Australian equivalent of teddy boys and greasers.
During a night out with 'bodgie' boyfriend Bruce (John Ifkovich) Shirley and the gang break into Luna Park, a fun fair on Sydney Harbour. In the River Caves ride Shirley meets a group of aliens who have come to warn of imminent catastrophe unless Earth rids itself of evil. Shirley helps the visitors, suggesting they animate a wax museum dummy of HRH the Duke of Edinburgh (Ron Haddrick) to deliver the message. The replacement royal appears at the opening ceremony of the 1956 Melbourne Olympics, announcing that he is an alien from outer space. But authorities and parents refuse to take the warnings seriously, and Shirley is deemed to be insane.
Curator's notes
'We were not in a position and nor was the industry in a position to develop a beautifully tailored A-picture, so why not just knock up a backyard B-picture?' – Jim Sharman, in conversation with australianscreen, 12 May 2009.
There is no other Australian feature like Shirley Thompson versus the Aliens and there probably never will be. A freewheeling combination of '50s rock'n'roll, juvenile delinquency, kitchen sink drama, sci-fi paranoia, French New Wave stylings and Ingmar Bergman-esque psychological drama, it has that extremely rare quality of appearing to invent itself before your eyes. A captivating display of unrestrained imagination underpinned by wickedly funny anti-Establishment humour, Shirley Thompson versus the Aliens was dreamt up by Helmut Bakaitis and fellow NIDA graduate Jim Sharman, whose 1969 Sydney stage production of Hair had been a tremendous success.
While the recently formed AFDC considered a funding application, Sharman decided to bankroll the $17,000 production himself and start shooting straight away on 16mm. 'What we did was pretty startling because no-one had made [an Australian film] in that kind of buccaneering way where you just picked up the camera and did it', remembers Sharman. That 'let's put on a show' spirit inhabits every frame as the film shoots off in all sorts of crazy and exciting directions without ever losing sight of what Sharman describes as 'the absolutely serious idea of someone who is driven completely mad by conformity'. 'That was very much a reflection of that moment in time and how a great many people felt', he says, referring to the very conservative political and cultural landscape in Australia during the 1950s and '60s.
From its stunning, twisted Alice in Wonderland-like opening fantasy sequence to the uproarious appearance of an alien-controlled wax effigy of the Duke of Edinburgh, Bakaitis and Sharman make sense of the title by showing that the aliens Shirley is battling aren't the strangers in Luna Park but the 'straight' people around her. The main target for their scathing and frequently hilarious attack on numbing suburban existence is Shirley's mother Rita, a harridan who makes disparaging comments about 'new Australians' ('I don't know what it is they cook but I can tell you it certainly is not food') and desperately wants Shirley to marry safe and boring Harold to make the family look good (see clip two).
On the flipside there's a delightful exuberance in Shirley's other life with her bodgie and widgie friends. Encased in a 1950s Sydney richly re-created on a shoestring by art director Brian Thomson (a regular Sharman collaborator ever since), and with a cracking collection of tunes by legendary Aussie rocker Johnny O'Keefe, it makes perfect sense for Shirley and the gang to identify with the aliens and support their cause. In this wonderfully weird world in which '50s juvenile delinquency drive-in movies meet the '60s surrealism of Luis Buñuel and Walerian Borowczyck, it seems just as natural for the rock'n'roll rebels to strap a jukebox on a motorbike and have a mobile dance party (see clip three) while the visitors plot their next move.
Shirley Thompson versus the Aliens was presented at the 1972 Sydney Film Festival where, Sharman recalls, it was 'generally greeted with bafflement'. 'Some of it is quite naïve, and some of it is quite sophisticated. It's perhaps the way these two things rub up against each other that makes it a little disconcerting for people', he says. An internationally renowned theatre and opera director for over 40 years, Sharman modestly views his first film as 'a test drive for things that came later'. Looking at other movies Sharman directed, one can see the awful suburbia of Shirley Thompson very much to the fore in his memorable adaptation of Patrick White's short story The Night the Prowler (1978). It's also not difficult to imagine Shirley and gang wanting to hang out with Dr Frank-N-Furter and his strange friends in Sharman's greatest commercial success The Rocky Horror Picture Show (1975).
Publicly screened only a handful of times in nearly 40 years, it seems unlikely that Shirley Thompson versus the Aliens will be appearing again soon in any commercial format. Fortunately it is available to film students, many of whom have no doubt been inspired by what Sharman describes as its 'renegade imagination'. Perhaps many have also been exquisitely haunted by the magnificent theme song performed by Jeannie Lewis that bookends this remarkable motion picture.
A version of Shirley Thompson versus the Aliens running 104 minutes was screened at the Sydney Film Festival on 6 June 1972 and later released through film cooperatives but is no longer in circulation. The film was reissued in 1976 in a 79-minute version.