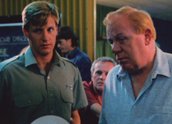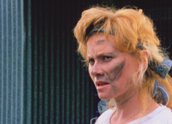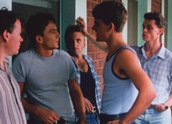 Synopsis
Perth lawyer Asta Cadell (Deborra-Lee Furness) crashes her motorcycle near a small town in Western Australia. While waiting for repairs Asta stays at the house of garage owner Tim Curtis (Tony Barry). After being subjected to sexual harassment and physical threats by local louts led by Danny (David Franklin), Asta discovers Tim's daughter, Lizzie (Simone Buchanan) has been gang-raped. Following an attack in which she overcomes her assailants, Asta convinces Lizzie to press charges. Released on bail by policeman Sgt Wal Cuddy (Peter Aanesen), Lizzie's accused rapists turn their violent attentions to her family and Asta.
Curator's notes
A potent blend of social realism and crime story, Shame follows the pattern of a classic Hollywood western. Like the drifting cowboy in countless sagebrush sagas, city lawyer Asta Cadell wanders into a small town, discovers its dark secrets and sets about putting things right.
Produced in 1987, when very few feature films were made in Western Australia, Shame marked an auspicious debut for director Steve Jodrell whose award winning short film The Buck's Party (1978) examined Aussie male culture. Working from a finely tuned screenplay by Sydney writers Beverley Blankenship and Michael Brindley, Jodrell pulls no punches in his depiction of misogyny lurking beneath Aussie mateship.
Starring a charismatic Deborra-Lee Furness as Asta, the movie introduces its leather-clad, motorcycle-riding central character Cadell as a sort of female Mad Max. Stranded in town following an accident, Asta slowly discovers there's something rotten about the place and feels compelled to stay and help teenager Lizzie, who has been gang-raped yet made to feel 'like a slut.' Independent, intelligent, and tough when required (see clip one), Asta is one of the great heroines of Australian cinema.
The screenplay carefully balances the mounting threat to Asta, Lizzie and other women in town with corrosive commentary on the males they fear. Ringleader Danny and his jeering friends are shown as a pack of vicious thugs, and policeman Cuddy is little better than the men whose behaviour he casually accepts (see clip one).
One of the most compelling characters is Lizzie's father, Tim Curtis. Admired veteran Tony Barry expertly portrays a man struggling to come to terms with what has happened to his daughter and how she is now perceived in a community in which a shameful code of silence surrounds frequent incidents of sexual violence (see clip two).
Perhaps the strongest theme in Shame is female empowerment. Asta's is a city lawyer who has dealt with men like Danny before. In the closed community she has drifted into, women are fearful of speaking out and upsetting the status quo permitted by Cuddy's weak-willed idea of law enforcement. Asta's very public bravery (see clip one) inspires the women to stand up and rally against criminal behaviour that has gone unpunished.
Delivered without clumsy speeches or dramatic grandstanding, the pro-feminist concerns of Shame made a strong impression on female audiences in Australia. As co-writer Michael Brindley recalls in David Stratton's history of 1980s Australian cinema The Avocado Plantation, 'Women still come up to us and thank us for writing a film that means so much to them, it really did touch a lot of people.'
Despite distribution difficulties and an administrative error that made it ineligble for the 1988 AFI awards, Shame performed credibly at the local box office and was released in several overseas markets. Shame won the Film Critics Circle of Australia awards for best actress (Deborra-Lee Furness) and best screenplay (Beverley Blankenship, Michael Brindley).
Shame was released in Australian cinemas on 26 February 1988.