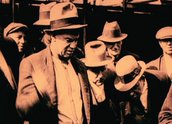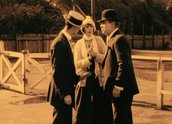 The Sentimental Bloke (1919)
Synopsis
Bill, AKA 'The Kid' (Arthur Tauchert), a larrikin from the Sydney dockside suburb of Woolloomooloo, gets a six-month sentence when he's caught in a two-up game. After he's released, he falls for Doreen (Lottie Lyell), an upright young woman who works in a pickle factory. She makes him renounce drinking, gambling and running with the local 'push' (or gang). They marry and although he's not yet fully reformed, the love of a good woman helps him to find a future.
Curator's notes
The Sentimental Bloke is regarded by many as the greatest silent film that Australia has produced. It was very popular when released in 1920 – partly because the book of verse by CJ Dennis was well-loved – but the film was largely forgotten by the 1930s, after 'talkies' took over. Raymond Longford and Lottie Lyell had been a successful acting duo since 1909, when she was 19 and he was 31. He had married in 1900, but his Catholic wife refused to grant a divorce, so Longford and Lyell could never solemnise their relationship the way that Arthur Tauchert, as 'The Kid', does in this film. Nevertheless from 1911 until her early death in 1925 from tuberculosis, they lived and worked together on a series of acclaimed and controversial films, that were generally very successful.
The Bloke, as it's affectionately known, is remarkable for the naturalism of its acting and the humour with which it portrays a working class milieu. Dennis's poem is set in Melbourne, but Longford and Lyell relocated it to Sydney's Woolloomooloo, which had a well-deserved reputation as a tough, inner-city neighbourhood. The violent gangs (or 'pushes') had largely disappeared by the time it was made, and Australia was just emerging from the First World War. The Kid is 'saved' from his life as a wastrel by the love of a good woman, a suitably reformist message – but most of the fun in the film concerns sin, in its many forms.
The book, published in 1915, is set pre-War, and that may be part of what made it popular with postwar audiences: it showed the city as a colourful pageant, full of unlikely characters, horse-drawn carts (not cars), and plentiful diversion in the form of pubs and 'two-up' schools. The reality, in cities like Sydney and Melbourne in 1920, with thousands of maimed soldiers returning to grim prospects, was very different.
Part of what makes The Bloke so enduring is that Longford and Lyell (who collaborated on all aspects of the film) have real affection for the milieu and characters they depict. Arthur Higgins' cinematography has an almost documentary feel in some scenes, such as the wedding reception. Film acting in 1919 was usually much more gestured than it is here. Arthur Tauchert, a former labourer himself, was performing in suburban vaudeville theatres when he was cast. His performance as Bill, the sentimental tough guy, grounds the whole film in reality. He can hardly believe his luck in finding Doreen. The possibility that he might lose her is kept very real throughout, because he's very human, and succumbs easily to temptation. Even with its reformist message, the film never seems preachy. Rather, it had a strongly optimistic tone, a sense of hope – which may have been another reason for its success.
Secondary curator's notes
by
Graham Shirley
The Sentimental Bloke has, from the time of its release, been regarded as the supreme achievement of Australia's silent era of film production. It was better reviewed and better received than any other pre-1930 Australian feature film. The vividness of its characterisation, heartfelt and sympathetic storytelling, its mixture of comedy with realistic backgrounds, and its Australian box office success played a major role in defining Australian national character on screen.
After the rediscovery of a sole surviving 35mm print of The Sentimental Bloke in the early 1950s, the film reached new audiences for another 50 years via 16mm prints loaned Australia-wide by government film libraries. During this time, all but one reel of the 35mm print was lost after the film had been copied, in 1954, to 35mm black-and-white duplicate negative. As a consequence the 16mm black-and-white copies of the film that most people saw during this time were visually inferior to The Sentimental Bloke's original, needle-sharp, colour-tinted viewing experience.
In 1992–93 the film was restored to 35mm prints by accessing the 35mm duplicate negative created in 1954, and screened to some acclaim at the Pordenone Silent Film Festival (in Italy) and in subsequent touring screenings.
Between the years 2000 and 2004, with sponsorship from Atlab Laboratories and Kodak Australasia, the NFSA newly restored The Sentimental Bloke again on 35mm using a duplicate of the film's original negative that had recently been found in the vaults of George Eastman House, Rochester, New York. Good quality scenes from this negative, representing a version that had been condensed and re-titled for the US market in the 1920s, were combined with more complete scenes that had survived in the NFSA's 1950s-era duplicate negative. This reconstruction of The Sentimental Bloke, colour-tinted as the original had been and with new music accompaniment by Jen Anderson and the Larrikins, was voted Best Film at the 2004 Sydney Film Festival. The restoration subsequently toured Australia and overseas, frequently with Jen Anderson and team playing live to the screen.
In 2008 the NFSA began work on what would become a box set – two DVDs containing the film (complete with Jen Anderson's score, now recorded), and extra materials, a monograph on the film, a reprint of the film's original script, and a novelty flip-book with images from the film – for the domestic market release of the 2004 restored version of The Sentimental Bloke. This box set, produced by the NFSA in association with Madman Entertainment, was publicly launched by the NFSA's chair and its Senior Curator, Moving Image, at the Powerhouse Museum, Sydney, on Tuesday 12 May 2009.