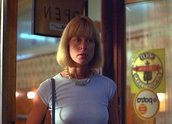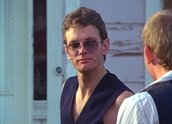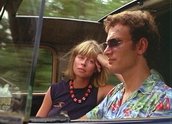 In Search of Anna (1978)
Synopsis
Tony (Richard Moir) hits the road from Melbourne, hitching north in search of an old girlfriend. He has just done six years in Pentridge, during which his mother committed suicide. He has a dog named Billy, a sawn off shotgun in his bag and two big scars on his face, after a 'reunion' with Jerry Maquire (Chris Haywood), one of his old criminal mates. At a country town café, Tony gets a ride with Sam (Judy Morris), a fashionable young woman driving a 1938 Buick. They head to Sydney together but he resists getting involved. He wants to find Anna, the woman he thinks he still loves. Sam is unhappily involved with a Sydney fashion photographer (Bill Hunter). When Tony finds out Anna has moved to Queensland, Sam and Tony head north again in the Buick. When they eventually find where Anna lives, Tony realises he's in love with Sam.
Curator's notes
In Search of Anna is an intriguing hybrid film, an attempt to imbue a mainstream road-movie romance with some of the more innovative film techniques of experimental cinema. In style, it's somewhere between the breezy, rock 'n' roll aesthetics of Chris Lofven's trippy Oz and the more rigorous and demanding formal experiments of Albie Thom's Palm Beach.
Esben Storm (born Denmark, 1950) had directed the innovative 27A four years earlier, the story of a hopeless alcoholic's descent into the Queensland incarceration system. In Search of Anna is dedicated to Robert McDarra, who played the alcoholic, and died soon after 27A was completed, but it's a much more hopeful film. Tony's search is not just for an old girlfriend, but a way to reconnect with a society he feels largely alienated from. He rejects his Greek heritage, and his old milieu. His former criminal cohort are satirised as puny wannabes, led by the small-time hood Jerry Maguire (Chris Haywood). Sam, the driver of the Buick, opens the door to Sydney's beautiful people, but they're satirised even more mercilessly, as arty wankers who take too many drugs. She is also looking for a connection, or an escape (she has tried to commit suicide).
Storm structures the film as a non-linear narrative, jumping backwards and forwards in time without visual clues; he often separates dialogue from image, and he foregrounds the soundtrack – an eclectic mix using British art-rocker John Martyn as the main source – so that the film has a strongly romantic, youthful appeal. Not all of the experiments work. The film's final montage, where Tony pursues Sam through the tropical bush to a deserted house, where they make love, is a bit like a pretentious rock clip, rather than an emotional high point. But the film is mostly very engaging – partly because of the fine performances by Richard Moir and Judy Morris – and partly because of some beautiful photography by Michael Edols. Esben Storm's direction has a restless energy throughout. The film is part of a maverick tradition that grew out of the experimental cinema of the 1970s, before 'professionalism' took hold in the 1980s, and began to discourage such experimentation.