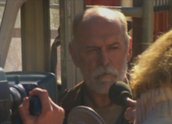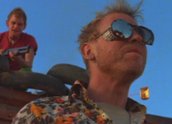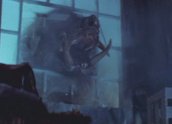 Razorback (1984)
Synopsis
The infant grandson of Jake Cullen (Bill Kerr) is carried off by a giant razorback boar near the outback town of Gamulla. Acquitted of murder for lack of evidence, Jake becomes obsessed with proving the creature exists. American animal rights activist Beth Winters (Judy Morris) arrives in Gamulla to film a television report about the slaughter of kangaroos for pet food. Soon after being attacked by Benny (Chris Haywood) and Dicko Baker (David Argue), owners of the Pet Pak slaughterhouse, Beth falls victim to the razorback. Beth's Canadian husband, Carl (Gregory Harrison), travels to Gamulla to investigate. Joining forces with Jake and animal researcher Sarah Cameron (Arkie Whiteley), Carl confronts the Baker brothers and hunts down the razorback.
Curator's notes
Australian feature film production boomed in the 1980s. Fuelled by generous tax concessions which attracted private investors, Australian producers packaged 334 features in the decade – the highest tally since the 1930s heyday of Ken G Hall and Charles Chauvel. With a plot unashamedly borrowed from Jaws (1975) and a $250,000 mechanical beast as the star attraction, Razorback can legitimately claim to be the first genuine Australian monster movie.
It was the feature debut of Russell Mulcahy, a young Australian who began shooting rock clips for Sydney TV station ATN-7 in the mid-1970s and was established as one of the world's leading music video makers by the early '80s with credits including 'Vienna' (by Ultravox), 'Total Eclipse of the Heart' (Bonnie Tyler) and 'Video Killed the Radio Star' (Buggles) – the first music video aired on MTV. In collaboration with Mad Max 2 (1981) cinematographer Dean Semler, Mulcahy brought a stylish visual sensibility to Razorback.
One of the most striking components of the widescreen Panavision imagery is the depiction of the outback. A place of mystery and fear in the Australian consciousness, the outback in Australian cinema is usually presented with stark realism. In several standout sequences, including Carl's trek through the desert, Mulcahy and Semler create surreal, Salvador Dali-like landscapes which capture the mystical, other-worldly nature of the barren space.
Opening with a reference to the famous Lindy Chamberlain dingo baby case (see Evil Angels, 1988), the screenplay by genre ace Everett De Roche – writer of Long Weekend (1978) and Patrick (1978) – has a wicked streak of humour which manifests most potently in the characters of Dicko and Benny Baker (see clip two). Given free reign by Mulcahy, David Argue and Chris Haywood emerge as the scariest kangaroo shooters since Wake in Fright (1971). At the other end of the performance spectrum, respected veteran Bill Kerr sturdily fulfils the Great White Hunter/Captain Quint from Jaws role as the obsessed Jake, and US import Gregory Harrison (Logan in the 1977–78 TV series Logan's Run) effectively essays the outsider who must contend with Dicko and Benny before his date with the beast (see clip three).
In one of her few feature roles the late Arkie Whiteley (from Mad Max 2, 1981) is well cast as the down-to-earth animal researcher. Considering that the full-size animatronic creature failed to work properly and is seen for only a couple of seconds, it's a tribute to Mulcahy and his team that the film works as well as it does. It's also a tribute to Mulcahy, producer Hal McElroy and special effects man Bob McCarron that 25 years later they're able to reflect with good humour on 'what went wrong'.
On the DVD extras on Razorback McCarron cheerfully recalls telling the production company the full-size beast wouldn't work as planned but was told to build it anyway, while McElroy says with a smile, 'We probably should have had a lot more money and a lot more time to get it right'. But what McCarron did get right were the head and face model parts of the creature which look terrific in well timed close-ups prior to the final showdown.
As with Jaws and its fake-looking shark, Razorback succeeds because the story surrounding the monster is compelling and executed with energy and excitement. Razorback was a hit at the Australian box office and was released in several overseas territories including the USA. It launched Russell Mulcahy on a successful international career highlighted by Highlander (1986) and Swimming Upstream (2003).
Razorback was released in Australian cinemas on 19 April 1984. The film won Best Cinematography (Dean Semler) and Best Editing (William Anderson) at the 1984 AFI awards and was also nominated for Adapted Screenplay, Original Music (Iva Davies), Sound (Tim Lloyd, Ron Purvis, Peter Fenton, Phil Heywood, Greg Bell, Helen Brown and Ashley Grenville) and Production Design (Bryce Walmsley).